' Doctor, if you let me drink this tequila, I promise I won't drink at my funeral ,' said Frida Kahlo. However, this didn't include the countless people, her friends and admirers, who toasted and honoured her soul during the very festive Día de Muertos.
To say that in comparison we remember our dead rather timidly would be an understatement. Come the Day of the Dead, Mexican cemeteries transform into a giant social gathering, fuelled by tequila and religious syncretism, with ancestors' graves lined with cempasuchil (the flower of death) while descendants reverentially kiss 'La Catrina', the iconic hatted female skeleton who embodies the holiday.
Welcome to Mexico, where joy rubs shoulders with death like the best black comedy. In Mexican tradition, death is not the end, but the beginning of a journey - you do not truly die until the last of your descendants forgets about you.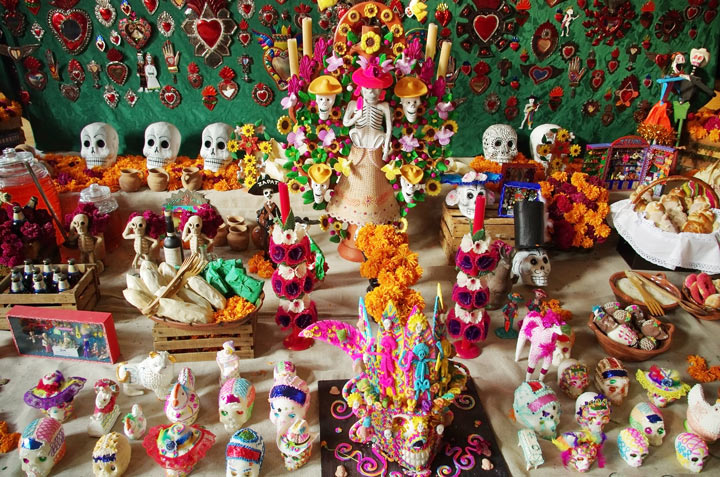 Getty Images
History
The Day of the Dead or 'Día de Muertos' is a national holiday that has existed for over 3,000 years. During this period, the dead are honoured. Every year, all Mexican families erect altars in honour of deceased relatives. Outside and in, everything is decorated and covered in flowers in honour of travelling souls, with papel picado (paper cuttings), calaveras (skulls made of sugar) and perhaps some mezcal, depending on your taste. Above all, the deceased's favourite food is placed on the altars. On the last day, parties and banquets are held in cemeteries, making it one of the most important festivals of the year. The souls of the deceased are cherished, pampered, sung to, kept company, and then escorted home when the party is over.

Olivier Romano
Death is a holiday
Listed on the UNESCO Representative List of Intangible Cultural Heritage , 'Dia de Muertos' or Day of the Dead actually consists of three days of festivities that are both sacred and codified, somewhere between Aztec customs and Catholic beliefs.
Save the date
The night of 31st October -1 Novemberis dedicated to 'los angelitos ' (dead children). The morning of 1st November (All Saints' Day ) is dedicated to the breakfast of 'los angelitos'. Then, new offerings are placed on the altars for deceased adults. On 2nd November, during the commemoration of the deceased, Mexicans go from one cemetery to another, throwing flower petals and lighting candles to guide souls to the graves.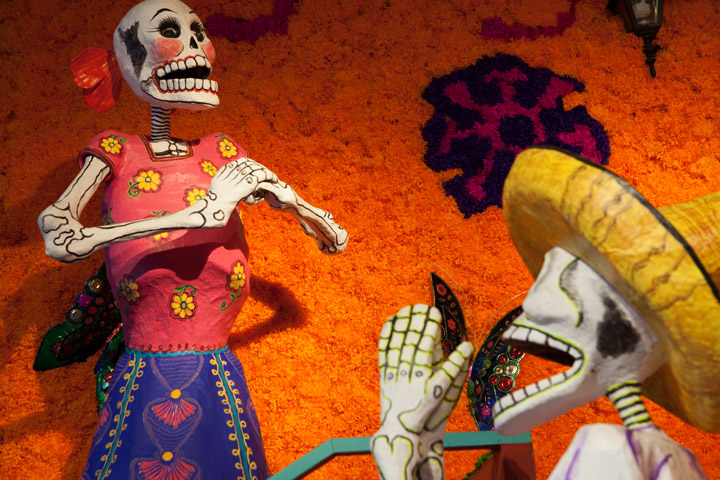 Olivier Romano
Altars
Families set up altars in their homes to offer departed souls their favourite foods as well as other marks of love and remembrance. Some altars strictly follow pre-Hispanic rituals and consist of seven levels, thus representing the seven steps that the dead soul must go through before it can find rest:
A portrait of the deceased sits at the highest point on the altar.
Personal objects signify the family's love for them.
Calaveras, skulls made of candy or plastic, are decorated with the name of the deceased inscribed on the forehead,
along with candles and cempasuchil flowers, white for children and orange for adults. This flower, native to Mexico, is a symbol of the sun's radiance, and is considered the origin of everything.
Papel picado is a very popular decoration of paper cuts into the shapes of skeletons and skulls.
Highly-scented incense dispels evil spirits and copal (tree resin) symbolises the transition from life to death.
Finally, their favourite foods, be they sweets for children (

'pan de muerto'

or sugar skulls) or cigarettes, tequila or beer for adults.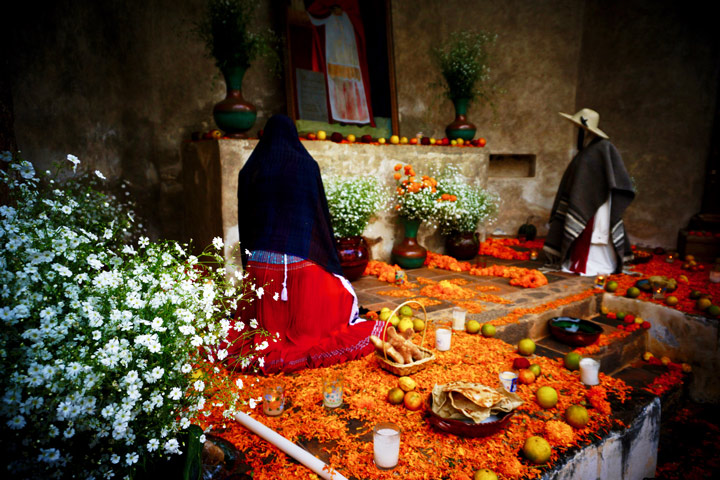 Getty Images
Rituals
In Mexico, La Calavera Catrina, an emblematic figure in colourful papier-mache, has become the popular icon of the Day of the Dead, and by extension of Mexican culture, in the 20th century. In Mexico, the great ritual celebration of the dead is accompanied by parades, songs, dancing, carnivals and large festive meals.
The death break
The festivities of 'Dia de Muertos' take place throughout the country, with each state celebrating in different style. No two are alike, but all offer a magical, colourful celebration with an aura of authentic emotion, beyond anything you could ever imagine or experience in Europe. :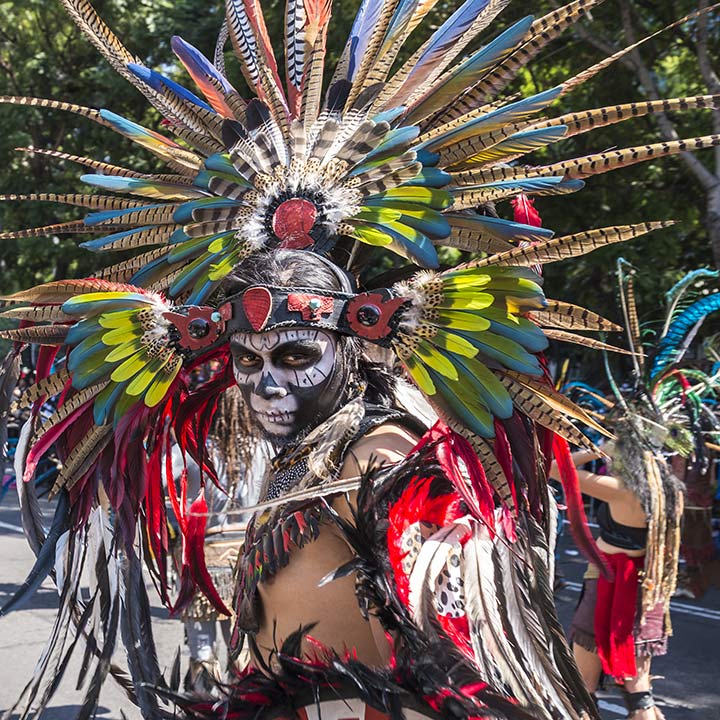 Getty Images
Michoacan State is famous for the city of Patzcuaro and its surroundings. Stroll through Plaza Vasco de Quiroga in Patzcuaro, where the holiday is still celebrated with great ritual and solemnity. Farther afield, the celebrations on Janitzio Island are also well known and attract thousands of visitors each year. The ceremonies and offerings to the dead take place in the old cemetery behind the main church, where a never-ending sea of candles is lit alongside flowers galore.
Other villages in the area are not as well-known to tourists, allowing for more authentic festivals with intact religious traditions. For example, in Cucuchucho, women dress in their finest outfits to prepare altars and offerings and keep candles lit into the early hours.
Mictlan Festival in Xalapa, Veracruz. A festival renowned for its great diversity. This festival invites audiences to venture into a dreamlike world over five days of uninterrupted performances. Crypts, tombs and mausoleums act as backdrops for the Mictlan Festival, which invites theatre, music and dance artists to present their stage and cultural creations.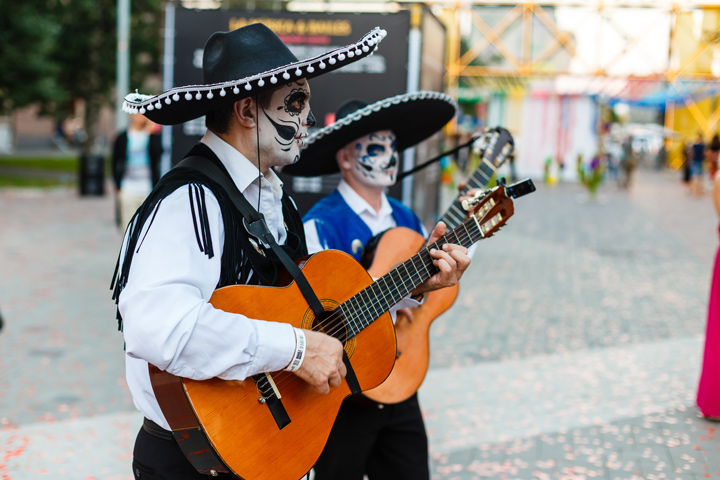 Fotolia
The Festival of Light and Life in Chignahuapan, Puebla. A true whirlwind of lights, mysticism and emotions. Hundreds of people illuminate and move around the floating stage of the lagoon, with candles, torches and thousands of lights flickering in the air and water, accompanied by dazzling fireworks and music. It's a truly enchanting experience.
Finally, Mexico City, which is definitely a must. Infinitely more popular since the animated movie 'Coco' and especially since the release of 'Spectre', the Bond film directed by Sam Mendes, which begins with a deadly parade scene during 'Día de Muertos'. It's worth noting that the Day of the Dead parade seen at the beginning of the film didn't used to actually exist. It wasn't until October 2016 that the Mexican government decided, as a tribute to the film, to actually introduce it. Life imitating art and all that... And in the days leading up to 2nd November, Mexico City invites its artists to give their creativity free rein, creating a temporary cemetery inside which they create various works of art : giant sculptures, frescoes on the ground, carpets of sand and flowers, dances and tributes to recently lost writers, artists and celebrities.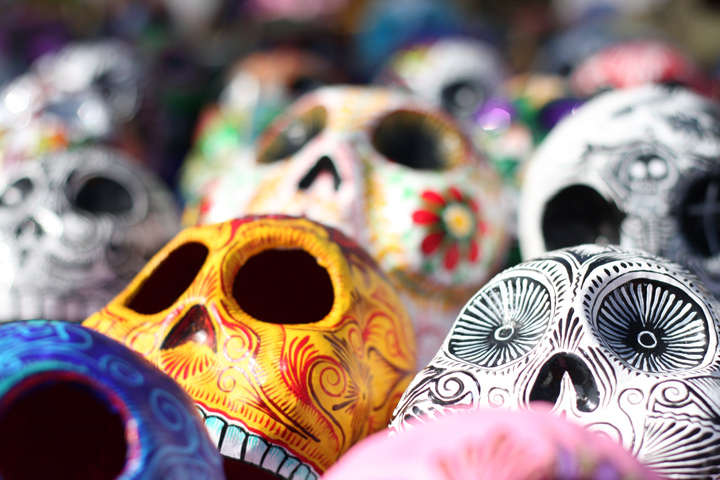 The Day of the Dead lives, plays, dances and prays until dawn. It's only in Mexico that death takes on festive colours and where art brings death to life.
By
PAULINE PINSOLLE