Picture this: you've spent the day lounging around on a palm-fringed beach or under the silky blue waves looking for rainbow-hued fish. You're tired in that warm-skinned, salty-haired kind of way, and a cool shower is beckoning. You hop on your bike to your postcard-perfect over-water villa, its private plunge pool and pristine linen sheets luring you back. All of this sounds like something from a beach-themed fairytale, but how do you narrow down the very best water-hovering hotels for diving, exploring and of course just relaxing? That's where our travel experts come in, with their wealth of holiday knowledge, giving you tips and tricks to make your stay in an over-water villa one to remember. Here is a list of our favourite over-water villas from around the world…
ASIA AND AUSTRALASIA
Home to the Maldives, French Polynesia and Indonesia, it's no wonder that Asia and Australasia boast some of the best over-water villas on Earth. Kicking it off with the crystalline sea-surrounded atolls of the Maldives, the lagoon, ocean and Laamu Water Villas at Six Senses Laamu are a firm favourite of ours. Each with sunken glass bathtubs and hammock nets over the ocean, it is an idyll for lovers of Eden-esque scenery and ultimate R&R. It also helps that these over-water villas are hands down one of the best locations for diving in the whole of the Maldives and a total haven for marine lovers, with the new SHELL centre that opened just this year. Soneva Fushi's over-water villas come complete with retractable roofs which will make stargazing from the bed one of your top Maldives bucket list activities. The waterslides from the villas into the aquamarine waters will also be up there with things to try, before donning your snorkel and heading out into the deep to see what you can spot.
One of Australasia's star players is French Polynesia – a collection of enchanting islands scattered across the vast expanse of the South Pacific, beckoning travellers with its siren song of tropical paradise. From hiking through verdant rainforests, swimming with manta rays and sea turtles, or simply basking in the warm sun while sipping on a refreshing cocktail, these islands really do have something for everyone. As the birthplace of the overwater bungalow, the Islands of Tahiti are a good place to start. Le Taha'a is home to some of our favourite over-water villas, each boasting views of iconic Mt Otemanu on Bora Bora on the horizon. Tuck into a breakfast hand-delivered across the lagoon by canoe, before diving into the gently rippling waters and exploring the marine life that surrounds you.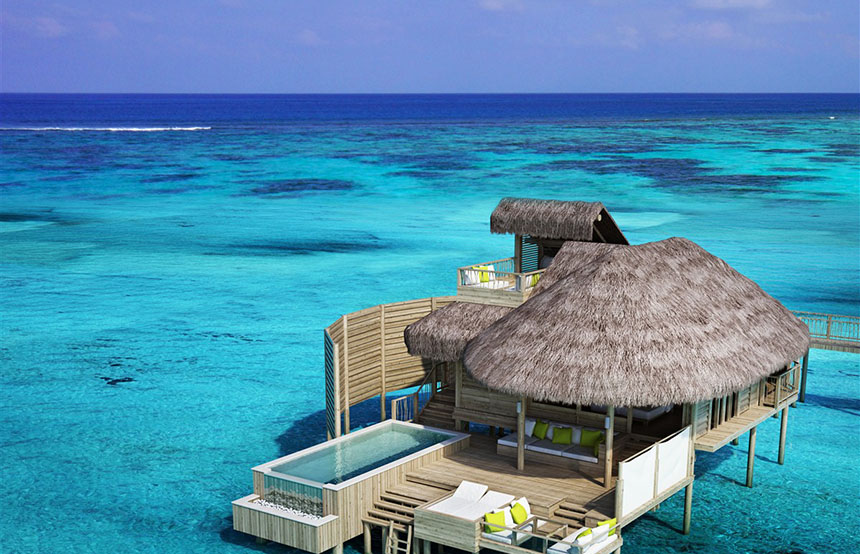 Image © Six Senses Laamu
AFRICA
Thanks to its lack of archipelagos and island clusters, Africa struggles a little with over-water villas. Situated in the Red Sea, Tawila Island is one of the most beautiful spots in Egypt. Although not currently finished, the Tawila Island Red Sea Resort will boast over-water bungalows, delicious speciality dining and seemingly endless swimming pools. We don't know exactly what the over-water villas will look like just yet, but the island's surroundings pretty much sell themselves, boasting an abundance of colourful corals, fascinating flora and fauna and a whole host of exciting cultural and historical activities. Our Africa experts have told us this is one to keep your eyes peeled for...
AMERICAS
If over-water villas in a private island paradise are what you're after, then Belize and Panama have what you're looking for. Thatch Caye in Belize boasts beautiful, stilted suites, each renovated using reclaimed island materials and boasting private outdoor space. These over-water villas have no 'real world' distractions (yes that means no Wi-Fi in the rooms), making a stay in one of them a truly extraordinary and utterly private experience. Another over-water villa recommended by our Americas specialists is Nayara Bocas del Toro in Panama, and after seeing its lush mangrove surroundings and beautiful boardwalks, it's no surprise why. Imagine lying in a four-poster bed overlooking mirror-like waters, or floating around in a private saltwater pool while keeping your eyes peeled for shiny fish and rainbow-hued coral. With heaps of watersports, diving and nature activities to keep you entertained, as well as a bucket list-worthy spa if relaxation is what you fancy, these spectacular over-water villas have so much on offer, all with nothing but the sound of the ocean in the background.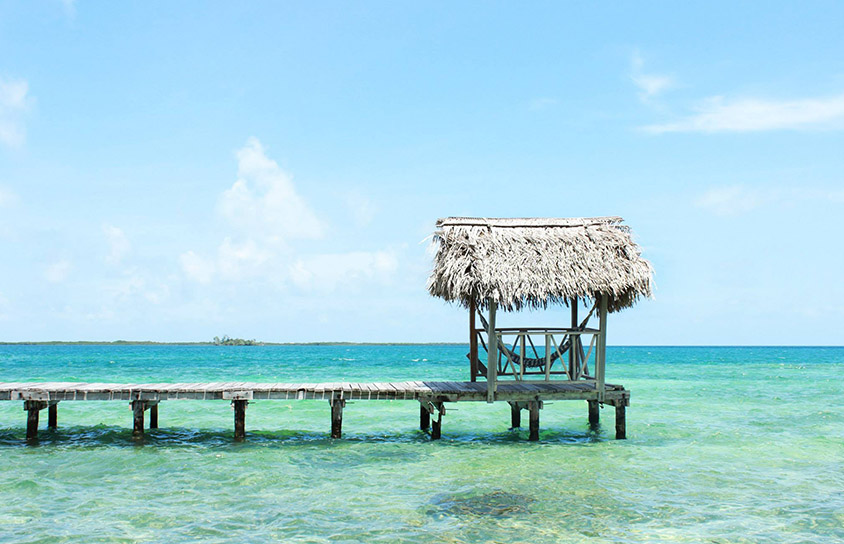 Image © Thatch Caye
EUROPE
Like its cousin in the southern hemisphere, Europe isn't known for its over-water villas, but our Europe experts do have one very special destination to add to our list. While not a classic hot-holiday destination, Sweden's coastlines are brimming with beauty and are hugely popular with the locals during the summer. Our hotel of choice, Salt and Sill, is located (or can be found floating) on the island of Klädesholmen off the Swedish west coast. Picture ruby-clad cabins boasting crisp Scandi décor and beautiful views out over the peaceful marine setting that surrounds them. Head out on a boat tour and explore one of the world's finest archipelagos, hop into a kayak to discover the fjords at sunset or simply sit in the hot tub with a glass of something tasty, and soak up the beautiful Swedish scenery from the comfort of your over-water villa.
Written by Immy Kelly
Header Image © Bocas Bali Luxury Water Villas