Are you sitting down? Good, because we've got news: we've solved the 'Brexit' issue (cue rapturous applause). No, we're not starting a political party and we haven't temporarily taken leave of our senses; we've decided that Britain should simply uproot and float away. While various politicians have been busy postulating, the Original Travel Science & Geology Department has been working tirelessly to find a solution and, while we won't bore you with the logistics, it basically comes down to cracking a few tectonic plates here and there and commandeering a rather large flock of birds to attach ourselves to and, hey presto, we'll be joining the likes of Phileas Fogg, James (of Giant Peach fame) and Carl from the movie Up as the world's most innovative travellers. It's a foolproof plan, we think you'll agree, and the only referendum necessary will be to decide where in the world we should float off to. In light of this, frankly, revolutionary discovery, we've canvassed the globe in search of some of the very best destinations for us Brits to explore. So all aboard, we're off on an adventure…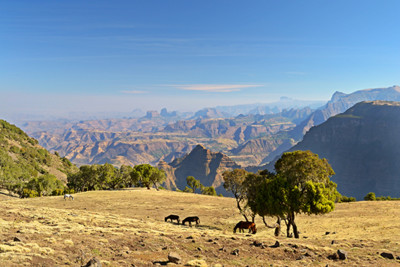 Ethiopia
There are already 84 languages spoken in Ethiopia so it's a country well equipped to cope with our vast linguistic variation, from Scots to Scousers and everyone in between. Besides this distinct advantage, Ethiopia is a fascinating dichotomy of culture, history, religion and tradition. And that's before we've even mentioned the landscapes which are, needless to say, simply spectacular.
The Azores, Portugal
For those wishing to stay in Europe, we can go one step further and literally join back up with the continent itself by wedging ourselves between mainland Portugal and The Azores, home to some amazing diving. Picture jumping off the white cliffs of Dover and into a subaqueous wonderland where you'll see whale sharks, mantas, mobulas and hammerheads. The weather can be quite changeable too so we'll all feel right at home.
The Caribbean
If you've got sunnier climes in mind, why not vote to float, á la Christopher Columbus, across to the glorious Caribbean. Just think of the cricket potential. Aside from that, think of the reggae vibes and culture of Jamaica, the sailing and watersports in Antigua, the looming volcanic mountains of St Lucia and the flawless beaches of, well, everywhere.
Antarctica
Antarctica is the driest, windiest, emptiest, coldest continent on Earth... perhaps more of a pit-stop than a permanent home for a floating Blighty, then. It's also an area of truly jaw-dropping beauty; rugged mountains give way to glaciers and icebergs in a kaleidoscope of colour. Then there's the wildlife; penguins, seals, whales and a variety of seabirds.
New Zealand
Bold statement alert (not the first of this piece, you'll agree) but New Zealand is the ultimate luxury holiday destination. Firstly there's the scenery, which is truly jaw-dropping. Then there's the people - a friendlier bunch you couldn't wish to meet (good job too given they're about to gain about 60 million more). That's before we've mentioned the food, the wine and the vast array of experiences on offer.
Montenegro
Sun-drenched hillsides, clear azure waters, glamorous superyachts - we must be talking about the South of France, right? Wrong! We are in fact talking about the glorious Mediterranean gem of Montenegro. This relatively undiscovered corner of Europe is also home to the beautiful black mountains, fjords and 200 hundred miles of beaches.
To register for our Vote to Float, please email april.fools@originaltravel.co.uk