Relics, Rainforest and Relaxation
Who: Couples and Honeymoons
From £2,790pp
Java, Kalimantan & Lombok: Relics, Rainforest and Relaxation
This is one for the adventurers, who like their creatures and their creature comforts. This twelve day Indonesian adventure offers a combination of ancient temple sites, time to explore the rainforest of Borneo in search of orangutans, and stunning beaches with great snorkelling and diving within reach.
Itinerary at a Glance:
Explore a traditional Javanese village with an expert local guide
Spot wild orangutan in their natural rainforest habitat
Sleep aboard a traditional wooden houseboat in Kalimantan
Relax on the peaceful sandy beaches of Lombok
Why Book with Original Travel?
Just a few of the extra touches that come as standard on an Original Travel holiday...
See More
All of the holidays we create are completely tailor-made to you
This sample itinerary is intended to give you a flavour of what we can do
Day 1:

International Flight
Depart from London for your flight to Indonesia. You will travel overnight arriving in Singapore in the morning, before connecting to your onward flight to Yogyakarta in Java.
You will be met at the airport by our representative on the ground before being privately transferred to your hotel in the countryside, near to the ancient Buddhist Stupa Borobudur.
The drive will around an hour and a half as you travel through the bustling city of Yogyakarta and out into the countryside, passing verdant rice fields, small villages and farmers tending to their crops. Arrive in time for lunch on the terrace - perhaps your first taste of Indonesian speciality Nasi Goreng (fried rice). Spend the afternoon relaxing by the pool after your long journey.
After breakfast at the hotel, you will be picked up for the journey to the charming village of Kotagede.
Kotagede is known as the 'Silver Village' due to the number of silver artisans that live here and the village is also home to some of the best examples of traditional Javanese architecture on the island. Explore by bicycle with your private guide, sampling the best Kembang Baru from a master baker, exploring the lanes of the vibrant local market and visiting the oldest mosque in Yogyakarta before enjoying lunch in a local family home.
After lunch, travel on to Prambanan, an impressive 9th century Hindu Temple complex. Explore the temple site with your private guide before returning to your hotel in time for dinner.
Wake early today in order to visit the beautiful Buddhist Stupa of Borobudur at sunrise.
Watching the sun rise over the temple and surrounding Menoreh hills as the early morning mist lifts is a serene experience. As day light appears, explore the intricate bas-reliefs of Borobudur with your private guide before retreating to a quiet hilltop to enjoy a hot drink and snack with a view of the whole of Borobudur.
After refuelling, continue on to explore the temples of Pawon and Mendut - both pre-dating Borobudur - before returning to your hotel in time for a leisurely late breakfast. The rest of the day is at leisure to relax.
Additional Activities
An Indonesian Cookery Class
Day 5:

Tanjung Puting National Park, Kalimantan
An early start today as you travel to the north coast of Java, from where you will take a flight across the Java sea to the island of Borneo.
You will be met at the airport by your private guide who will accompany you for your days in the rainforest. After a short transfer to the port town of Kumai board your private klotok boat which will be home for the next few days.
Set off amid the bustle of this shipping port before turning into a narrow channel - the Sekonyer River - which weaves its way through the Tanjung Puting National Park enjoying lunch on deck as you go. Spend the afternoon cruising along the Sekonyer River, keeping eyes peeled for sightings of Proboscis Monkey, Macaques, lizards, bird life and possibly even your first glimpse of an orangutan. Moor up in a secluded spot and fall asleep to the sounds of the jungle.
Reed-laden riverbanks give way to palms and in turn to thick jungle as you journey deeper into the national park.
Day 6:

Tanjung Puting National Park, Kalimantan
Breakfast is prepared by your private chef and served on deck this morning, with a view of the thick jungle and resident wildlife, and a soundtrack of birdsong and cicadas. The crew will start up the engine for your journey toward Camp Leakey, a once world-renowned orangutan research centre.
Since the camps foundation in the 70's, over 200 orangutan have been rehabilitated and released into the national park. Today, the centre serves as a feeding platform and ranger base. Enjoy lunch aboard your klotok before a 30 minute walk along the boardwalk to the feeding platform; on route you may be lucky enough to spot wild gibbon, long tail macaque and wild pigs. As the park rangers lay fruit on the platform, some of the parks resident orangutans will begin to appear through the trees, often showing off their agility and climbing prowess before enjoying a feast of fresh fruit.
You will have plenty of time to sit and observe the orangutan, and take plenty of photographs before returning to your klotok for another night on board.
Day 7:

Tanjung Puting National Park, Kalimantan
This morning you will visit Pondok Tanguy, the second of the parks three feeding platforms. You will have time to sit, observe and photograph the orangutans and any other wildlife that may appear before travelling on to the Pesalat Rainforest Station where you can learn about the rainforest conservation and research efforts from the resident NGO's and researchers.
A third and final chance to spot an orangutan this afternoon, at Tanjung Harapan Camp. This is often the quietest feeding platform (in terms of human visitors, not orangutans!) and should offer a fantastic chance for a close up view of these beautiful animals. After the orangutans have left, make your way across the river to Tanjung Harapan Village, a traditional Malay settlement within the rainforest. Wander along the narrow pathways between wooden homes, rice paddies and inquisitive village children with your guide, learning about life in the rainforest as you walk. Enjoy dinner aboard before a final night in the rainforest.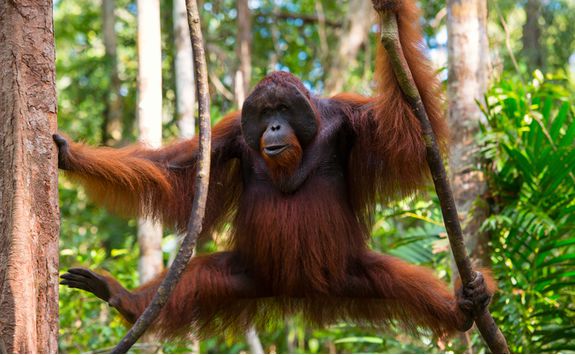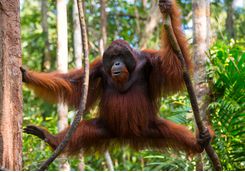 Enjoy breakfast on deck and leave the rainforest behind as you sail back to Kumai Port in plenty of time for your departing flight. Early afternoon you will fly back to Java, before connecting on to a flight to the idyllic island of Lombok. Your driver will meet you on arrival at the airport for the drive north, which will take around two hours.
Settle into your beachfront retreat for some well-earned R&R.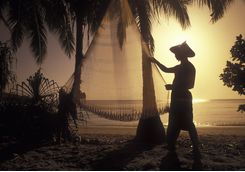 Although Lombok is a more arid island than neighbouring Bali, it still has its fair share of lush, tropical scenery. Today, you'll leave the coast behind as you travel inland to visit local villages and waterfalls and explore the forest.
First up you'll visit traditional Sasak Village of Karang Bayan where the villagers still hold true to ancient Sasak traditions in terms of both the village architecture, and their 'Wektu Telu' customs, which fuse Islamic, Hindu and Buddhist beliefs. From here, travel on to the protected ancient forest at Suranadi where you will have the chance to trek through the forest and spot the resident monkeys.
Afterwards, enjoy a simple Lombok lunch at a local restaurant. After re-fuelling, you'll visit the Benang waterfalls. Set off on foot for around 30 minutes to access Benang Kelambu; the falls are 40m high and flow over caverns which are densely covered by indigenous herbs, flora and fauna.
After visiting the falls, you'll return to your hotel to relax and perhaps enjoy a well-earned massage in an oceanfront spa cabana!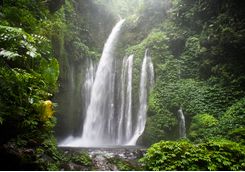 Lombok locals love their 'sambal' (chilli sauce), so be sure to try some!
Enjoy your final holiday days at leisure on the beach in Lombok and enjoying the local cuisine - fiery sambal (chilli) is a common theme on local menus. While away hours floating in the pool or the ocean and being pampered in the spa.
Additional Activities
Private snorkelling and beach hopping trip to the Gili Islands
Indonesian Cookery Class
Temple Tour
Waterfall Hike
Sadly the time has come to head home. You'll be picked up from your hotel late this afternoon for the transfer south to the airport. From here, it's an overnight indirect flight back to the UK.
All of the holidays we create are completely tailor-made to you
This sample itinerary is intended to give you a flavour of what we can do
A Rough Idea of Price
While all of our holidays are completely tailor-made and prices will vary based on things like time of year and level of accommodation, we want to give you as good an idea of how much this itinerary will cost. The below prices are based on two people sharing.
This Itinerary
If you would like to book the itinerary mentioned above, with economy flights, during mid-season and staying in our preferred room category at our preferred hotels.
Bells & Whistles
If you are looking for something extra special, we can discuss with you upgrading your accommodation, flights or activities.
Holly is our expert for this itinerary and, as a seasoned traveller, has the inside track on the most memorable adventures.