Although Lombok is a more arid island than neighbouring Bali, it still has its fair share of lush, tropical scenery. Today, you'll leave the coast behind as you travel inland to visit local villages and waterfalls and explore the forest.
First up you'll visit traditional Sasak Village of Karang Bayan where the villagers still hold true to ancient Sasak traditions in terms of both the village architecture, and their 'Wektu Telu' customs, which fuse Islamic, Hindu and Buddhist beliefs. From here, travel on to the protected ancient forest at Suranadi where you will have the chance to trek through the forest and spot the resident monkeys.
Afterwards, enjoy a simple Lombok lunch at a local restaurant. After re-fuelling, you'll visit the Benang waterfalls. Set off on foot for around 30 minutes to access Benang Kelambu; the falls are 40m high and flow over caverns which are densely covered by indigenous herbs, flora and fauna.
After visiting the falls, you'll return to your hotel to relax and perhaps enjoy a well-earned massage in an oceanfront spa cabana!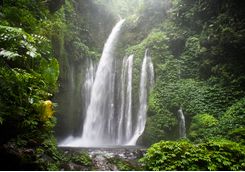 Lombok locals love their 'sambal' (chilli sauce), so be sure to try some!