Fly-Drive Southern Spain
Who: Couples and Road Trippers
From £2,965pp
A Cultural Road Trip through Cities, Coast and Countryside in Southern Spain
Spend ten days exploring southern Spain on this road trip taking in Granada, Cordoba, Seville and a little bit of the glorious Andalusian countryside.
Itinerary at a Glance:
Hunt out the best tapas (and sangria) in Andalucia
Learn about Moorish and Christian architecture
Spend time exploring the glorious Andalusian countryside
Why Book with Original Travel?
Just a few of the extra touches that come as standard on an Original Travel holiday...
See More
All of the holidays we create are completely tailor-made to you
This sample itinerary is intended to give you a flavour of what we can do
Day 1:

The Adventure Begins in Granada
It's a quick three-hour flight from the UK to Malaga so depending on which of the morning flights we've booked for you, you will arrive between late morning and mid-afternoon. Once you've picked up your bags, you will collect the keys to your hire car and make your way to your hotel. Alternatively, you can swap the flight for a journey through the French countryside on a road trip from the UK.
We recommend consulting your detailed destination Dossier for our favourite spots to eat, before spending the rest of the day getting your bearings and hunting out the best tapas in town.
After breakfast this morning, you will be met at your hotel by an expert historian guide for a full day's private tour of the treasures of the Alhambra, a 1,500-year old masterpiece of Moorish and Christian architecture.
The maze of rooms and courtyards was built over centuries, with successive occupants - everyone from kings to squatters have called the fortress home over the years - adding to and enhancing the building. Your guide will help you unravel the mish-mash of styles, telling you stories of kings, princesses and harems and how the palace represents the cultural blend that led to modern day Spain.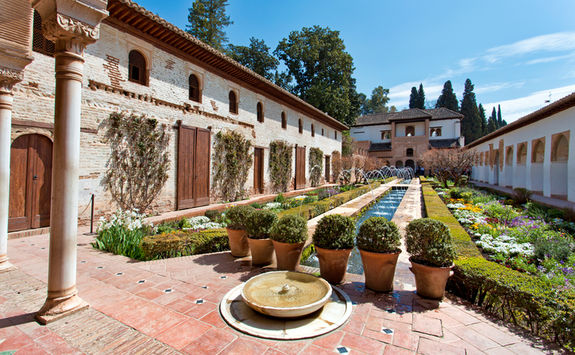 The Alhambra gets its name from the Arabic phrase 'qa'lat al-Hamra,' which means 'red castle,' a nod to the walls which glow red in the sunlightsunset, but under starlight the bricks glow appear silver, creating an eerie spectacle against the night sky.

After breakfast this morning, you will pick up the keys to your hire car. From here, you will make the two-and-a-half-hour drive to Cordoba, arriving just in time for lunch. After you have dropped you bags at your hotel, stroll into town for an afternoon exploring.
Your Dossier is full of our favourite things to do and see - not to mention the best places for some tapas and a sangria or two. One of our all-time favourite ways to pass an hour or two is to wandering around the old Jewish and Moorish quarters, where locals take immense pride in keeping their courtyards beautiful and in full bloom all year round. Doors are left open and it isn't at all rude to wander in for a look, so feel free to snoop and snap away to your heart's content - within reason.
After breakfast you will make the two-hour drive to Seville, where your Dossier will again come in handy as you explore on foot for the afternoon.
This evening we have arranged a tapas tour, so you will meet your expert foodie guide in the centre of town before embarking on a walk around Seville's best spots for some tapas, sherry and sangria.
This morning, you will be met at your hotel by an expert guide for a full day tour of the city, starting in the wonderful Alcazar Gardens.
Though built by a Christian king (for his mistress, no less), the architecture around the gardens is wonderfully Moorish, and reflects the gardens of Persia where peace, serenity and water features are of the upmost importance. The gardens feel like a time warp - it isn't difficult to imagine that you might round a corner and come across a 14th century king holding court, or young princes and princesses playing by a fountain. After a couple of hours exploring the gardens, you will continue exploring the city, beginning with inside of the Alcazar Palace itself, which was the seat of the Kings and Queens of Castille for centuries. After a thorough investigation of the city's light and airy piazza's and dark, cool churches you will make your way to one of our favourite Flamenco bars for dinner and a show of some of the best dancing in Spain.
Day 6:

Heading to the Country
After breakfast this morning you will make the hour and a half drive from Seville to your next hotel, in the middle of the Andalusian countryside.
After settling in and having lunch, you will be met by one of our expert guides for a guided hike through the olive groves and pine forests of Andalucia. As you walk through the hills and valleys, your guide will explain how Moorish and Christian cultures have shaped the region and the way people grow their food and eat today. For dinner tonight, we have booked you a table at your hotel's wonderful restaurant, but not before a dip in the pool and a few sundowners on the terrace.
Additional Activities
Sherry tasting with a local expert who will talk you through the various different types of this delectable local tipple
After breakfast this morning, while the air is still cool and the sun low in the sky, you will be met by an expert riding instructor for a few hours hacking across the countryside.
Depending on your ability and experience on horseback, you will mount your Andalusian horse - selected based on your skill level - and set off for your ride. Horses remain an integral part of life in Andalucia and riding them through the countryside is a truly thrilling experience, especially if you get up to a gallop. After your ride - and a shower! - we recommend heading into a nearby town for lunch and an explore, and afternoon back at the hotel, possibly drinking sangria and relaxing in the shade.
After breakfast this morning you will drive the three hours to your final hotel, a beautiful country manor near the southernmost tip of Spain.
The next two days are all about relaxing, so we highly recommend spending plenty of time basking by the pool or under a pergola, cocktail in one hand and book in the other. If you feel like something more active cycling tours can be arranged, and there is plenty of walking available around the estate.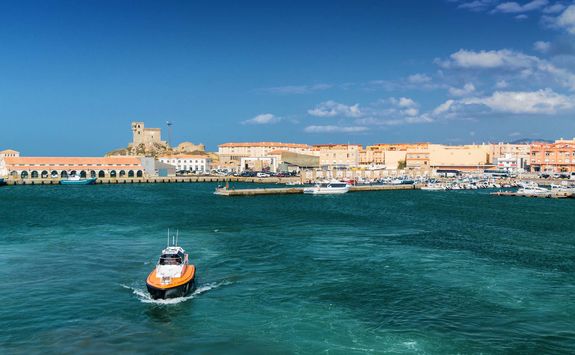 After breakfast this morning you will bid farewell to your hotel and make the hour-and-a-half drive to Seville airport in time for your two-and-a-half-hour flight home. Depending on which one we've booked for you, you will arrive back in the UK at some point between mid-afternoon and late evening. Alternatively, road trippers can extend their adventure with a trip through neighbouring Portugal, then even explore the Basque Country and the west coast of France en route to the UK.
All of the holidays we create are completely tailor-made to you
This sample itinerary is intended to give you a flavour of what we can do
A Rough Idea of Price
While all of our holidays are completely tailor-made and prices will vary based on things like time of year and level of accommodation, we want to give you as good an idea of how much this itinerary will cost. The below prices are based on two people sharing.
This Itinerary
If you would like to book the itinerary mentioned above, with economy flights, during mid-season and staying in our preferred room category at our preferred hotels.
Bare Necessities
If you would like to pare back the above itinerary by travelling at non-peak times, staying in a standard room and removing some or all of the guided activities.
Bells & Whistles
If you are looking for something extra special, we can discuss with you upgrading your accommodation, flights or activities.
Harriet and Kate L are our experts for this itinerary and as seasoned travellers they have the inside track on the most memorable adventures.