After breakfast this morning, you will be met at your hotel by an expert historian guide for a full day's private tour of the treasures of the Alhambra, a 1,500-year old masterpiece of Moorish and Christian architecture.
The maze of rooms and courtyards was built over centuries, with successive occupants - everyone from kings to squatters have called the fortress home over the years - adding to and enhancing the building. Your guide will help you unravel the mish-mash of styles, telling you stories of kings, princesses and harems and how the palace represents the cultural blend that led to modern day Spain.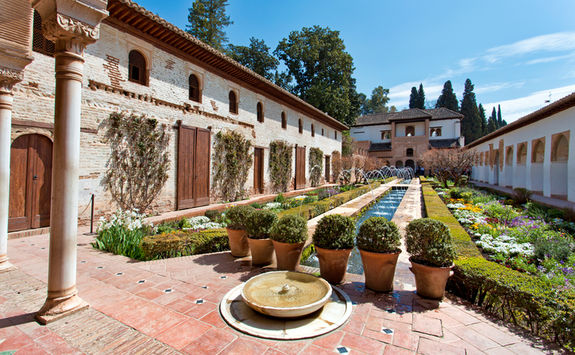 The Alhambra gets its name from the Arabic phrase 'qa'lat al-Hamra,' which means 'red castle,' a nod to the walls which glow red in the sunlightsunset, but under starlight the bricks glow appear silver, creating an eerie spectacle against the night sky.