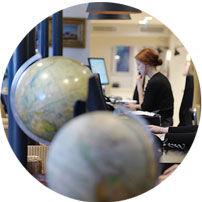 Watch the spring sunshine bounce off the Spanish skyline as you eat tapas and drink wine in the cobbled squares of Seville; dream the day away on the sun-kissed, palm-fringed beaches of Malaga; immerse yourself into the ancient ruins and historic tales of Cádiz; and shop until you drop in the glittering designer boutiques of the Costa del Sol – a multitude of fantastic experiences vie for your attention during your Spanish Easter holidays. In many parts of the country, temperatures are already beginning to skyrocket and a laid-back, sun-kissed, water-filled holiday beckons from the beaches of Spain,
while its gorgeous scenery, mountains and volcanoes are ripe for discovery if you crave more action during your trip. Easter is a unique time to visit this part of the world – Semana Santa (or 'Holy Week'), is one of the most important festivals in Spain and is marked with a week-long calendar of festivities and religious processions that parade the streets; a crazy, colourful whirlwind of costumes, music and elaborate floats decked in candles, flowers and holy figures. Watch the streets come alive and soak up the fantastic Spanish flavour.
Ideas
A few suggestions to get the holiday planning process started
Easter Holidays by country
A few of the benefits of travelling with us
What our clients say about us
Spain customer reviews (4 reviews)
4.5/5
I must tell you that you made a believer out of me. I travel a lot for business globally and everything you organised was top of the line. I was so enthusiastic about your team that I gave your coordinates to my flight neighbour. It says it all! Thank you for a wonderful vacation to Spain.
Spain Guide
Practical advice, client testimonials and inspiration to help you prepare for your holiday
Contact one of our Spain specialists