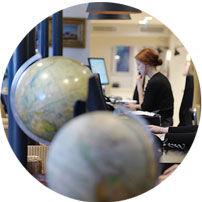 Passionate and sophisticated, Spain oozes soulful sensuality. Ideal for couples, this place truly delivers when it comes to the good stuff. Deliciously diverse landscapes, captivating culture and fabulous food, what's not to like? Between the wild cliffs of the northwest and the coves of the Mediterranean to the south, discover a generous sprinkling of charming hilltop towns and hidden walking trails. The perfect getaway just for two, spend days hiking and swimming, and while away evenings feasting on food and indulging in wine - after all, both are considered national obsessions. Discover the sensual
secrets of southern Spain while tasting Tocino de Cielo (similar to creme caramel) in Andalusia or admiring the gorgeous gardens and medieval architecture of Granada. Vibrant culture bursts from the streets in whichever city you visit and peace and quiet drift on the breeze in any tiny town that you pass by. Spain couples holidays are nature and culture with a side plate of passion, washed down with a glass of red...what could be better?
Spain Couples Holiday Ideas
A few suggestions to get the holiday planning process started
Couples Holidays by country
A few of the benefits of travelling with us
What our clients say about us
Spain customer reviews (4 reviews)
4.5/5
I must tell you that you made a believer out of me. I travel a lot for business globally and everything you organised was top of the line. I was so enthusiastic about your team that I gave your coordinates to my flight neighbour. It says it all! Thank you for a wonderful vacation to Spain.
Spain Guide
Practical advice, client testimonials and inspiration to help you prepare for your holiday
Contact one of our Spain specialists