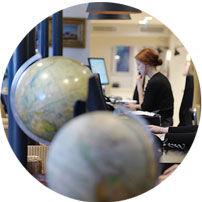 Home to sizzling passion and soulful living, Spain is the perfect place to seduce your senses and feed your sophisticated side - and is best enjoyed with a side of croquettes and a glass of red. Begin your married life by exploring this rich and diverse European contry together. You'll find that its home to a little bit of everything: from hiking in the snow capped Sierra Nevada's, that rise above the plains of Andalucia; to hidden coves tucked away from the world. There are hilltop towns that hide the charm of old Spain within their cobbled streets, and vibrant cities that burst with fabulous food and captivating culture.
Travel from the wild north, where climbing and hiking are perfect for the more adventurous newlyweds, or perhaps embark on a pilgrimage to Santiago de Compostela, ideal for those after a historical voyage. Sip balloon glasses of gin in Barcelona as you toast to the joys of married life; experience a fun fiesta in Madrid; and learn to tango on the island of Mallorca. Spain honeymoons allow you to fall in love all over again as you immerse yourself in utter romance of this wonderful country.
Spain Honeymoons Ideas
A few suggestions to get the holiday planning process started
A few of the benefits of travelling with us
What our clients say about us
Spain customer reviews (4 reviews)
4.5/5
I must tell you that you made a believer out of me. I travel a lot for business globally and everything you organised was top of the line. I was so enthusiastic about your team that I gave your coordinates to my flight neighbour. It says it all! Thank you for a wonderful vacation to Spain.
Spain Guide
Practical advice, client testimonials and inspiration to help you prepare for your holiday
Contact one of our Spain specialists