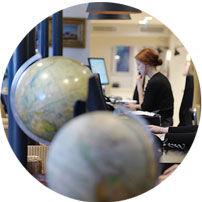 Spain is a hotspot for culture. Hanging off the edge of Europe and almost touching the coast of North Africa, the country's own laidback lifestyle meets a multitude of Moorish and Roman influences. For a fabulous fusion of pristine nature and uber-cool urban life, head to the old city of Granada, where the Sierra Nevada mountains look on from a distance. Alternatively, head south to Seville where Islamic architecture is the background for traditional Spanish flamenco dancing. Barcelona, meanwhile, is a paradise for art lovers, with the works of Antoni Gaudí dotted around the city, jumping out at you from parks and street corners.
Wherever you choose, use your senses to experience the spirit of Spain: taste the rich flavours of a saffron-spiced paella; listen to the strumming of a classical guitarist; and smell the fragrant scent of the blooming orange trees. Spain city breaks offer the chance to experience the real country beyond its tourist-filled beaches.
Spain City Breaks Ideas
A few suggestions to get the holiday planning process started
A few of the benefits of travelling with us
What our clients say about us
Spain customer reviews (4 reviews)
4.5/5
I must tell you that you made a believer out of me. I travel a lot for business globally and everything you organised was top of the line. I was so enthusiastic about your team that I gave your coordinates to my flight neighbour. It says it all! Thank you for a wonderful vacation to Spain.
Spain Guide
Practical advice, client testimonials and inspiration to help you prepare for your holiday
Contact one of our Spain specialists