Iceland adventure sabbatical
Who: Couples and Families
Adventure Sabbatical through Sweden, Norway and Iceland
Spend two months travelling through Iceland and Norway exploring all that these glorious northern countries have to offer. From cross-country skiing to train-travel through Norway and whale-watching and fly-fishing in Iceland, this is a sabbatical you will never forget.
Itinerary at a Glance:
Discover Svalbard, deep in the Arctic Circle, by land and sea
Cross-country ski across 111 miles of Arctic landscape in 14 days
Road trip along Sweden's West Coast
Take a train through Norway
Road trip around Iceland to see the sights
Enjoy Deplar's many activities
Why Book with Original Travel?
Just a few of the extra touches that come as standard on an Original Travel holiday...
See More
All of the holidays we create are completely tailor-made to you
This sample itinerary is intended to give you a flavour of what we can do
Days 1 -7:

Adventures in Svalbard
Svalbard is home to Norway's most northern town, Longyearbyen, which is also the first stage on your luxury adventure sabbatical in Norway.
While you are staying in Svalbard, enjoy the great outdoors, kayaking, hiking and hunting for fossils. A boat trip offers the best possible perspective of the surrounding Greenland Sea, while an unforgettable dog-sledging trip will be the icing on top of this part of your northern adventure. You might even see a polar bear in the distance.
Days 8-22:

Cross-Country Skiing Trip in Spitsbergen
Onto the second part of your adventure sabbatical, also on the main Svalbard island of Spitsbergen, when you can put your adventure skills to the test on a two-week cross-country skiing trip across 111 miles of arctic landscape.
Travelling in a group, each team member is expected to pitch in, pulling the equipment and gear in a pulk (sled) and aiming to cover between 9 and 12 miles a day. It's travel like the Edwardian polar adventurers knew it, and of course the greatest of them all was Roald Amundsen, a Norwegian.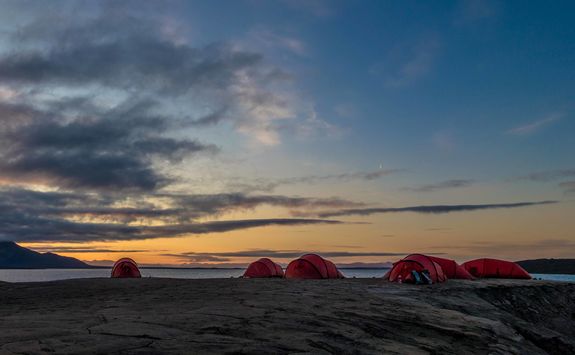 Days 23-28:

Adventuring in Sweden
After your unforgettable cross-country ski trip, head south to Oslo and onto Sweden's vibrant second city, Gothenburg, for a different kind of adventure on this luxury sabbatical.
After a day exploring the city and enjoying fika (that's coffee and cake to you and me, and something of a Swedish obsession), begin a road trip along Sweden's West Coast. Heading up the coastline you will see the low lying rocky formations and colourful houses in beautiful Bohuslan. Spend your time enjoying kayaking and biking and seafood safaris before ending your journey with a ferry to the Koster Islands, a car-free archipelago. Then it's time to head on to Oslo.
Day 29-39:

Train Travel through Norway
Head out from Oslo and hop on a boat for a fjord sightseeing cruise before catching your train to Flam; the next stage of your luxury adventure sabbatical. Located at the head of Aurlandsfjorden and beside Sognefjord, Flam is located in a spectacular setting and one of its main attractions is the mountain railway that glides into peaks that surround the town.
Jump off for more Fjord exploration, including a waterfall hike, stunning views at Stegastein View Point and storytelling at Skalde Gard. From Flam, take the afternoon ferry all the way to Bergen; which is arguably the best way to see the landscapes of this fascinating area.
Days 40-49:

Road trip around Iceland
After flying into Reykjavik, spend your first day in Iceland exploring the city and enjoying a dip in the thermal waters of the Blue Lagoon, before you embark on your Iceland road trip.
From the comfort of your own car head out into the wildness to see the Golden Circle and Skaftafell Waterfall, not to mention the fabulous fjords and the Dettifoss waterfall.
Your journey will take you north to Husavik, where you will swap the car for a boat and go whale-watching; an incredible chance to experience the magic of these ocean-dwelling giants up close. Hop back into your car, and venture onto Deplar.
Days 50-55:

Diverting Deplar and the Snaefellsness Peninsula
Spend the next four days of your adventure sabbatical enjoying activities of your choosing from surfing and hiking to riding and whale watching; Deplar has every adventurous pursuit there is. Explore Puffin Island, take a RIB boat tour or an air tour. Go fly fishing on Icelandic rivers; these final few days won't be forgotten in a hurry.
Round out this northern sabbatical with a trip to Snaefellsness Peninsula, with its diverse and fascinating landscape and literary significance as the setting for many of the Norse sagas and Jules Verne's 'Journey to the Centre of the Earth'. Glittering fjords and powerful volcanic peaks are just a few of the natural treasures this area is home to.
Your sabbatical ends in Reykjavik, where you will catch your flight home.
All of the holidays we create are completely tailor-made to you
This sample itinerary is intended to give you a flavour of what we can do
Charlotte H is our expert for this itinerary and, as a seasoned traveller, has the inside track on the most memorable adventures.