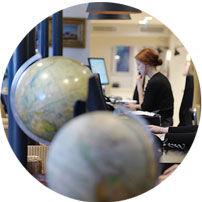 Words alone cannot do justice to Rome. Those who haven't been should do so as a matter of priority, while those who have will need little or no persuading to return. Walk back in time through the Forum of ancient Rome to the Colosseum, witness the staggering opulence of St. Peter's Basilica, or take a twilight passeggiata stroll in the Pincio Gardens above the Piazza del Populo for a spectacular view over the city. Everyone from Caesar Augustus to Michelangelo and Mussolini has left their mark on this extraordinary city. From the evocative Appian Way, where Spartacus' men were crucified, to Bernini's
fountains and Fellini's film La Dolce Vita, Rome is a phenomenal concentration of history, legend and artistic masterpieces. Inject some culture into your Rome holiday by exploring its incredible architecture, bustling food markets and piazzas, and its myriad historical sites, or simply throw yourself into that dolce vita lifestyle as you enjoy long al fresco lunches, wonderfully indulgent gelatos and strong shots of fresh coffee in sleepy streetside cafes. Explore on foot to get a real sense of the city while you get pleasantly lost in the maze of cobbled streets and saunter through stunning piazzas. Visit the famous seven hills that are rich in ancient ruins and don't miss a guided tour of the Colosseum where you can learn about the fearsome gladiators who fought there.
Rome & Abruzzo Holiday Ideas
A few suggestions to get the holiday planning process started
A few of the benefits of travelling with us
What our clients say about us
Italy customer reviews (4 reviews)
4.8/5
We had a lovely time - the hotel was gorgeous - very comfy and in the perfect spot and they were very helpful and nice. Our two guides were excellent - very knowledgeable and interesting. It was great - all round! We were lucky and had beautiful weather too (blue sky and sun - but freezing, which was great).

Thank you so much for everything - it was all perfect (transfer was great too).
Italy Guide
Practical advice, client testimonials and inspiration to help you prepare for your holiday
Contact one of our Italy specialists