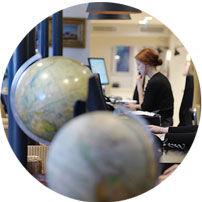 There are few foreign forays as fun as taking a beautiful private property and filling it with family of different generations. It's like Christmas, but with warm weather, no nagging guilt at missing the Queen's Speech and 'granny nanny' on hand should you need a breather at any point. Our collective experiences of 3G (Three Generational) holidays have taught us a thing or two about what makes these multi-generation holidays work, and renting a villa or lodge is definitely the way forward. It has the benefit of giving the grandparents space to get some peace and quiet away from the little ones,
but means no-one will sneak their beach towel onto the best sun lounger before breakfast. Well, you'd hope not, given they're your relatives...
Multi-Generation Holiday Ideas
A few suggestions to get the holiday planning process started
Multi-Generation Holidays by country
A few of the benefits of travelling with us
Review
What our clients say about us
This is the first time we went on a trip with Original Travel, a specialist advisor who listens to our expectations, and really the feeling of being pampered from departure to arrival. The concierge service is so efficient that we quickly become addicted.
Multi-Generation Holidays Guide
Practical advice, client testimonials and inspiration to help you prepare for your holiday
Contact one of our specialists