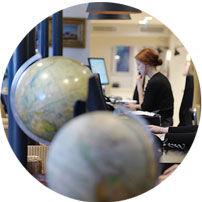 In as egalitarian a country as Sweden – where 'allemansratten' (the right to roam) is sacrosanct, you might think that luxury was a dirty word, but luxury Sweden holidays are a wonderful way to explore this special destination. To clarify, there are some lovely hotels here, but the luxury in question is more the luxury of access to some of the most amazing and original experiences in all of Europe, rather than gold taps and thread counts. Visit Swedish Lapland in winter and we can arrange for you to hunt the Northern Lights while staying in private and wonderfully snug log cabins in snow-clad forests,
while by day you mush your own teams of huskies; stay in Stockholm and we can arrange privately guided kayaking trips around the beautiful archipelago in summer and dinner reservations in the latest hit restaurants; switch coastlines and visit beautiful Bohuslan and we can get you on a seafood safari where you help the crew gather in their nets or pots and you can then enjoy a sumptuous seafood (be that mussels, lobster or crayfish) feast, either cooked on board or on a deserted beach. The experience of eating the freshest imaginable produce surrounded by bewitchingly beautiful landscapes is luxury of a different and (we hope you'll agree) altogether higher order.
Ideas
A few suggestions to get the holiday planning process started
Luxury Holidays by country
A few of the benefits of travelling with us
What our clients say about us
Sweden customer reviews (5 reviews)
4.7/5
I have no doubt I will use your company again in the future. You provide wonderful holidays and excellent service.
Sweden Guide
Practical advice, client testimonials and inspiration to help you prepare for your holiday
Contact one of our Sweden specialists