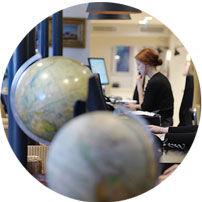 Your eyelids become increasingly heavy as the clickety-clack of the train serves as a locomotive lullaby. You fight to keep them open, afraid to miss the whitewater-filled fjords and dark green alpine spruces that rush past while your train climbs through Sweden's Nordic wilderness. With no need to hurry from A to B, train travel is the optimum slow-yourself-down way to ditch the timetable and relax. Sweden train travel is the most eco-conscious way of discovering this expansive country, and with stops along the way to explore a traditional Sami village or even an ABBA-blaring bar, it is the ultimate
way to flaunt your inner Greta Thunberg in style. Sweden is vast, brimming with archipelago islands, spikey peaked mountains and cloud-reflecting lakes, making travelling this way subtly thrilling. Venture from the temperate southern city of Malmö, to Stockholm in the east, or Gothenburg in the west, all the way to beautifully-bleak Swedish Lapland, nestled in the wilds of the Arctic Circle.
A few of the benefits of travelling with us
What our clients say about us
Sweden customer reviews (5 reviews)
4.7/5
I have no doubt I will use your company again in the future. You provide wonderful holidays and excellent service.
Sweden Guide
Practical advice, client testimonials and inspiration to help you prepare for your holiday
Contact one of our Sweden specialists