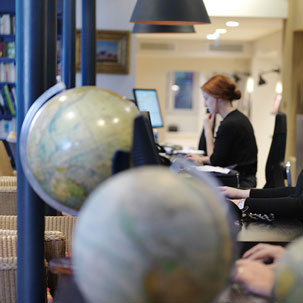 USA expert
Why do you love the USA so much?
It offers so much variety… amazing scenery from mountains to deserts in the national parks, every activity you could imagine including hiking, biking, surfing, wine tasting, rafting, kayaking, whale watching, sailing and so much more. Great food and drink throughout and the fact that it is so easy to get around with internal flights or on an epic road trip.
When did you first visit USA and what was your first impression?
Some 20 years ago when I took a bit of a punt to go to university there without ever having visited it before! First impression – everything was bigger!
How many states have you visited? And how much time have you spent in the USA?
I've been to around 20 states, and spent a total of about eight years there. It's very much a second home.
What is your all-time favourite place in the country?
California. It has everything.
What's been your most memorable experience in the USA?
Trekking in the Sierra Nevada Mountains and Yosemite National Park – the scenery is just breathtaking.
What would be your top recommendation for someone visiting the USA for the first time?
Don't try to cram too much in. Go for as long as you possibly can but within your time frame, don't rush around.?Pick one area and spend a good amount of time there rather than rushing through.
What's your insider tip?
If visiting Los Angeles, head beyond Santa Monica for a beach experience to somewhere like Manhattan Beach (not the NYC version, obviously, but the one on the outskirts of LA) which has much more of a local vibe than the busyness of Santa Monica.
Recommendations for USA
What's the perfect souvenir to bring back from the USA?
I guess it depends where you're going.? For NYC, a kitsch mini Statue of Liberty, for example, or if you're a sports fan, a jersey from an American football or baseball.
What's been your best foodie experience in the USA? And what's one dish you have to try while in the USA?
That's a tough question… I love American brunches so I would recommend a good eggs Benedict 'Californian style', so with avocado.
Is there somewhere you haven't had a chance to visit yet that you'd love to go?
Yes, I've been to Springdale National Park in Utah but my next trip will be to road trip through all the other parks nearby, Bryce Canyon NP, Capitol Reef NP, Arches NP and Canyonlands NP and go mountain biking around Moab.
What's one place in the USA that you could go back to again and again?
San Diego; great weather, beaches and food all and with a very laid-back atmosphere, despite it being a city.