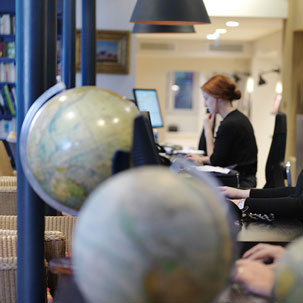 USA expert
Why do you love the USA so much?
It's big with so much on offer, but importantly the culture is not the same throughout the country. The US is more like several smaller countries tied together; the laid-back lifestyle of the west is completely different to the frenzied east coast cities; throw in conservative small towns, amazing music cities plus a huge number of national parks and America is great for exploring, especially on road trips.
When did you first visit USA and what was your first impression?
I first visited the US back in 1995 when I spent a year travelling the States from west coast to east coast by bus, train and car-sharing. The national parks started my love of hiking, with some of my most memorable hikes being to the top of Half Dome in Yosemite and to the valley floor of the Grand Canyon.
How many states have you visited? And how much time have you spent in the USA?
18 states, including several additional visits to America after my year-long trip there.
What is your all-time favourite place in the country?
Has to be Yellowstone, visit early or late in the season to avoid the crowds of summer. Whilst there get up first thing in the morning (could be very cold!) to see the Paint Pots before anyone else arrives.
What's been your most memorable experience in the USA?
In Truth or Consequences, New Mexico, participating in a Native American sweat lodge, where hot rocks are brought into a small blacked-out tent and then water poured over them to steam up the tent to some pretty high temperatures. Sweating profusely with a bunch of strangers for hours in a small, pitch-black space, wearing next to nothing and talking about life and everything else is highly recommended!
What would be your top recommendation for someone visiting the USA for the first time?
It's a huge country with some big driving distances so concentrate on one area, like California, the Deep South or New England, so you're making the most of your time there.
What's your insider tip?
Check out the driving distances when going from place to place; they can be much longer than expected!
Recommendations for USA
What's the perfect souvenir to bring back from the USA?
I love taking photos so my souvenirs are landscape and cityscape photos of everywhere. Lots of data storage on your camera is a must!
What's been your best foodie experience in the USA? And what's one dish you have to try while in the USA?
New York diners, not just for the massive plates of food but also for people watching. For something you have eat, some good ole fried chicken in the Deep South; expect more than a few calories..
Is there somewhere you haven't had a chance to visit yet that you'd love to go?
Alaska - I would love to get to Denali and Katmai National Parks.
What's one place in the USA that you could go back to again and again?
San Francisco, a very cool city with some very cool people.