Jacqui
Indonesia specialist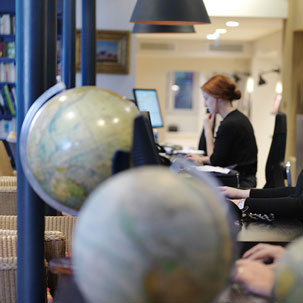 INDONESIA expert
When did you first visit Indonesia and what was your first impression?
My first trip to Indonesia was in 2010, backpacking with a friend. We arrived into Jakarta, promptly got ourselves on an overnight train to Yogyakarta, and woke up in Java's cultural capital for our first full day in Indonesia. We headed to the ancient Buddhist stupa (domed shrine) of Borobudur on that first day, and the contrast between the serenity of Borobudur and the vibrancy of Beringharjo market in Yogyakarta set the tone for a varied and amazing trip.
Why do you love Indonesia so much?
I love being by and in the ocean and so an archipelago of over 17,500 islands was always going to be a hit! What I love most is the sheer variety of experiences – you can hike up to the crater rim of an active volcano and working sulphur mine at the crack of dawn in Eastern Java, and be snorkelling or diving the colourful reefs of Menjangan Island in Bali by the late afternoon. The archipelago is paradise for wildlife lovers too. Seeing orangutans in their natural habitat is an absolute privilege.
What's been your most memorable experience in Indonesia?
A week sailing and diving in the Komodo National Park, aboard the beautiful phinisi sailing boat Tiger Blue. I spent my days diving the vibrant reefs and channels in the marine park, trekking in search of wild Komodo dragons - endemic to Indonesia - devouring the freshest sashimi, expertly prepared by the onboard chef, and ending the days with barbeques on deserted beaches, under starry skies.
Is there somewhere you haven't had a chance to visit yet that you'd love to go? 
Although I have travelled to the island of Sumba already (wonderfully off-the-beaten-track, with beautiful landscapes, beaches and a fascinating animist culture), I would love to go back during the Pasola festival – a horseback battle, which commences upon the arrival of the sacred nyale seaworms to the shores of Western Sumba. In modern times the spears are blunted, but the spirituality and intensity of the celebration remains.