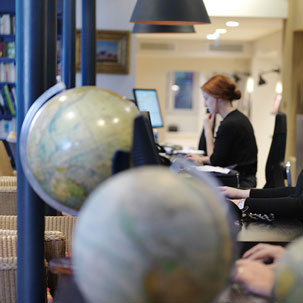 ICELAND expert
What's been your most memorable experience in Iceland?
Gazing out to sea while soaking in the warm waters of the geothermal baths in Husavik in the north of Iceland.
What would be your top recommendation for someone visiting Iceland for the first time?
Get out of Reykjavik! The capital is great, but it's really just the very tip of the iceberg and the further you travel the more you will be rewarded.
What do you love most about Iceland?
The dramatic scenery and the sheer emptiness of the place.
What's one local dish you have to try while in Iceland?
Fermented shark. You will almost certainly be offered this delicacy at some stage, and out of sheer curiosity and bravado you ought to try it. Just make sure it's immediately washed down with something alcoholic!
When did you first visit Iceland and what was your first impression?
It felt like I was landing on the moon! It was really early in the morning as our plane was landing and as I looked out of the window slightly bleary eyed and half asleep, I saw steam rising from a bright blue lagoon in a crater-like landscape. It's unlike anywhere else.
Is there somewhere you haven't had a chance to visit in Iceland that you'd love to visit?
The mountainous Westfjords peninsula. I'd love to go for a couple of weeks in the early summer and go completely off grid.
What is your favourite place in the country?
The north, but in particular?Myvatn, perhaps because I wasn't expecting it to be as amazing as the south. The landscape is like nothing I've ever seen: huge craters and beautiful lakes that reflect the changing skies overhead.
Recommendations for Iceland
If you could only visit Iceland in summer or winter, which would you choose?
This is a very tricky question to answer, but I would have to say the summer. There is so much to do in winter, but even more of Iceland is accessible in the summer and perhaps it's in contrast to the long winter but everything looks so very alive! Waterfalls, wildlife, the flora and fauna, the natural world at its most vibrant.
What's the perfect souvenir to bring back from Iceland??
A renewed enthusiasm for geology. If I'm honest I was not a particularly attentive science or geography student at school but I was surprised to find myself googling all things geological on my return to the UK!
Is Iceland somewhere to go to as a couple or with family?
Either. I think Iceland might be one of the very best places in the entire world for a road trip and the chance to spend some quality time with your loved ones. Miles of deserted road, incredible scenery and ultimate freedom.?