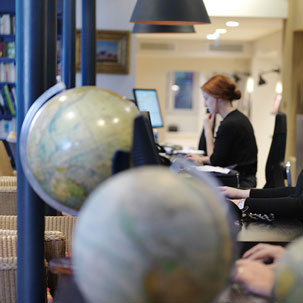 PORTUGAL expert
What do you love most about Portugal?
I love how much diversity there is in the country. From the quaint cobbled streets of Lisbon to the beautiful beaches in the Algarve, to the expansive scenery in the Azores Islands – there is something for everyone.
When did you first visit Portugal and what was your first impression?
I first visited Portugal for my study abroad period which I did in Lisbon. My first impression was how laidback the city felt and how friendly the people were – not to mention how delicious the food was!
How much time have you spent in Portugal?
I have spent a total of 6 months in Portugal. This time was spent studying in Lisbon and making sure to grab any opportunity I could get to explore as much of the country as possible including Sintra, Porto, Cascais, the Algarve and the Azores Islands for example.
What is your all-time favourite place in the country?
As Lisbon was my home for half a year, it has a special place in my heart. I could return time and time again to my favourite spots, and never tire of them. At the same time, I love how each time I visit, I discover something new.
What's been your most memorable experience in Portugal?
Without a doubt, hiking to the Miradouro da Boca do Inferno in Sao Miguel in the Azores Islands. Once we reached the end of the footpath, we were met by absolutely breathtaking views, surrounded by nothing but silence – it was incredible.
What would be your top recommendation for someone visiting Portugal for the first time?
Do a walking tour of the Alfama district in Lisbon. It offers a unique and authentic experience of the city and really allows you to immerse yourself in the culture and see the way the locals live, aided by the incredible street art and distant sound of Fado music.
What's the perfect souvenir to bring back from Portugal?
It's got to be some authentic Port wine from Porto!
Recommendations for Portugal
What's been your best foodie experience in Portugal
There is a restaurant called A Casa do Bacalhau in Lisbon where the menu consists of 'bacalhau' (the local dish of salted cod) cooked in 25 different ways. It's an incredible experience!
What's the one local dish you have to try while in Portugal?
Nothing beats a visit to Pasteis de Belem, home to the original Pastel de Nata. It is served warm with cinnamon and icing sugar and is absolutely delicious.
Is there somewhere you haven't had a chance to visit yet that you'd love to go?
Whilst I was able to visit Porto which I loved, I didn't get as far as the Douro Valley. I'd very much like to take a cruise along the Douro river to explore the beautiful scenery and visit a number of vineyards for wine tastings.
Is Portugal somewhere to go to as a couple or with family?
The wonderful thing about Portugal is that there is something for everyone, whether it's more of a resort-style family property in the Algarve or smaller boutique adults-only hotel in a secluded & romantic location in the Douro Valley, you'll always find what you're looking for.