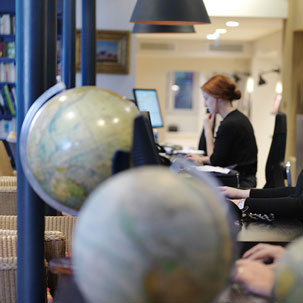 ROMANIA expert
Why do you love Romania so much?
I love how different this is to the rest of Europe, I was totally blown away by the unique cultural history, authenticity and untouched nature of the country. This therefore allows you to really disconnect and take it all in compared to other busier parts of Europe. It feels wild, free and a world away from modern life.
What is your all-time favourite place in the country?
I loved the Transylvanian villages with their colourful ramshackle houses in various states of repair and watching the locals go about their business in a slow, simple fashion. The restoration projects behind many of the guesthouses are fascinating and deeply personal which makes for a fantastically original and engaging stay. The mountains around Fagaras are really spectacular with beautiful passes and mountain scenery and you can be as remote as you like here, having the opportunity to spot wildlife and enjoy trails all to yourself.
What's been your most memorable experience in Romania?
Meeting the locals – the genuine warmth and openness of the locals really resonated with me when traveling around Romania. There are endless people with interesting stories to tell either about how they fell in love with the country and ended up staying, or what life was like under Ceaucescu.
What's the perfect souvenir to bring back from Romania?
Spreading the word about tourism. They really want people to visit and learn about Romania in a sustainable and authentic way. Go home and tell people what it's really like and correct any misconceptions.
Is there somewhere you haven't had a chance to visit yet that you'd love to go?
The Danube Delta – for the wildlife and the mix of incredible local communities including the Lipovan Russians and Ukranians. This is an even more untouched area of the country with the locals really focusing on promoting slow and sustainable tourism. They take their role as custodians of the land very seriously and there are many foundations and projects aimed at supporting nature and traditions, for example, the Arca Association who monitor the wild horses in the area.