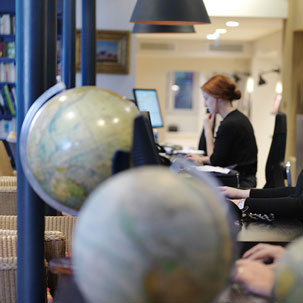 OMAN expert
What do you love most about Oman?
I love that Oman's geography is so diverse. You can go from gorgeous beaches to rugged mountains to endless sand dunes, all in the space of a few hours, and each area is so unique and beautiful.
What's been your most memorable experience in Oman?
Having a private camp in the desert was absolutely magical. Watching the sunset across the dunes, enjoying a delicious candlelit dinner, then sipping mint tea under a blanket of stars... truly unforgettable
What would be your top recommendation for someone visiting Oman for the first time?
While of course there are some must-see sites, one of the best things about Oman is that you don't need to follow a rigid itinerary. It's worth taking some time, either with a driver/guide or your own vehicle, to simply explore and enjoy the scenery at a leisurely pace.
What's your insider tip/lesser known recommendation?
The mountain region is a lot more spread out than it looks on a map, so if you're really keen to experience as much as possible, it may be worth splitting your stay between two areas, so you don't have to spend too much time in the car just travelling from your hotel.
Is there somewhere you haven't had a chance to visit yet that you'd love to go?
I'd love to take the coastal road from the north to Salalah, stopping off to see the pink lagoons and fishing villages around the central region.
Is Oman somewhere to go to as a couple of with family?
Both! As it's very easy to get around, Oman is a super destination for families, as you can have some gentle adventures without having to travel too far. Adrenaline-seeking teenagers will be delighted with all of the activities in the mountains – mountain biking, trekking, via ferrata, canyoning – there's plenty of fun to be had! But it's also perfect for active couples, or those simply looking to unwind in some beautiful scenery and solitude.