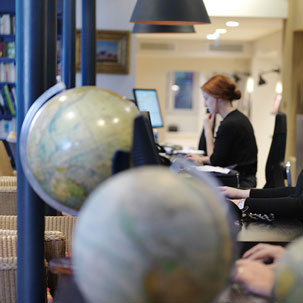 MEXICO expert
Why do you love Mexico so much?
Mexico has so much to offer to virtually every type of traveller. Bustling metropolises, a rich and varied history, powder white beaches, steamy jungles and world-famous food. As I have a Mexican wife, I would have to say that I love the people the most. They are warm and welcoming, fun and friendly and they love to show you a good time.
When did you first visit Mexico and what was your first impression?
The first time I visited was in 2010 for my now sister-in-law's wedding. Aside from dancing the night away at the wedding (which was in an historic hacienda), we visited the ruins and white sand beaches of Tulum, some of the gorgeous colonial towns like San Miguel de Allende as well as the wild and jungle-clad beaches of the Pacific coast. I was in love!
How much time have you spent in Mexico?
In total, over 7 months in the last 10 years.
What is your all-time favourite place in the country?
A very tough question. How do you compare the solitude of a wild and deserted beach on the Pacific coast with the frenetic energy of Mexico City? I love the jungle-clad ruins at Yaxchillan in Chiapas. Only accessible by boat and being taken over by the jungle, climbing one of the pyramids to be greeted by a howler monkey is quite unforgettable.
What's been your most memorable experience in Mexico?
Do I have to choose just one? On an ATV and on horseback, riding around the stunning Hacienda San Antonio in the shadows of a volcano in Colima. Or waking up on the Pacific coast, eating breakfast while five humpback whales frolicked a few hundred feet away, slapping their fins and breaching out of the calm waters of the bay.
What would be your top recommendation for someone visiting Mexico for the first time?
Don't try to do too much at once. Give enough time to enjoy each destination without rushing around. You can always go back!
What's your insider tip?
Although San Miguel de Allende is a beautiful town and is much-loved by US travellers, for somewhere less affected by international tourism but still equally pretty, head to Guanajuato, a colourful small former silver mining city about an hour west of San Miguel de Allende. The network of narrow streets, alleyways and tunnels are great to explore and due to a large student population, it is a buzzy place.
Recommendations for Mexico
What's the perfect souvenir to bring back from Mexico?
There are too many options to single out just one! Each region specializes in different arts and crafts. The Huichol indigenous group of western Mexico specialize in beaded art, there is black pottery from Oaxaca and Talavera tiles from Puebla. The Saturday market in San Angel, a neighbourhood in southern Mexico City has the best selection of arts and handicrafts from across the country and is also a great place to have breakfast in the city.
What's been your best foodie experience in Mexico?
Eating ceviche and tostadas in San Juan de Alima on the Michoacan coast, watching the rollers come in off the Pacific. My mother-in-law's Tortas Ahogadas (a Guadalajara specialty of pulled pork drowned in tomato salsa) are also high on my list of favourites.
What's the one local dish you have to try while in Mexico?
Cochinita Pibil – slow roasted pork dish from the Yucatan Peninsula. Fantastic in tacos with red onion.
Is there somewhere you haven't had a chance to visit yet that you'd love to go?
La Huasteca Potosina – a region in San Luis Potosi state, north of Mexico City, which is home to gorgeous waterfalls, canyons and the surrealist gardens of Edward James. Little known to non-Mexicans.
What's one place in Mexico that you could go back to again and again?
Mexico City – always changing, always buzzy and always lots of fun!
Is Mexico somewhere to go to as a couple of with family?
Mexico is perfect for honeymooners and families alike. There are so many romantic destinations and hotels, secluded beaches and great restaurants for couples but as with much of Latin America, Mexicans value the family above all else so they love children and welcome them with open arms. There are plenty of options for families from the many beaches to family friendly haciendas and for the older children, plenty of soft adventure from snorkelling and diving to biking and kayaking.