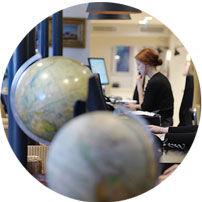 Between the Caribbean and Pacific coasts and to the south of Mexico City, Oaxaca and Chiapas offer one of the most culturally diverse experiences on offer in Mexico. Sitting at the end of a valley dominated by the Sierra Madre del Sur, Oaxaca is a blend of indigenous, colonial and modern influences. This cultural cocktail makes Oaxaca holidays one of the most attractive options in Mexico. Visit monumental Zapotec sites,
local markets that are some of the most colorful in the country, and colonial villages full of galleries and handicraft centres in this, the cultural heartland of Mexico. Continuing south, Chiapas is Mexico's most southern state, bordering another of our favourite countries - Guatemala - and full to the brim with archaeological and natural wonders.
Regions Mexico
Discover more 100% tailor-made holiday ideas
A few of the benefits of travelling with us
What our clients say about us
Customer reviews Mexico (4 reviews)
4.5/5
I'd highly recommend your service to anyone who asked and your personal note at the start of the trip was appreciated. Having access to a contact in Mexico was also good, especially because of the time difference.
Mexico Guide
Practical advice, client testimonials and inspiration to help you prepare for your holiday
Contact one of our Mexico specialists