Itinerary Highlights
Vibrant New York to arty Miami: two icons of the American East to explore as a family
Your US accommodation: a former factory with a rooftop in Manhattan, a swimming pool and Art Deco in South Beach
Metro Pass & City Pass, informal trips with locals and boat trip to Miami: included
Access to our local Concierge and our usual additional services
Contact one of our USA specialists + 44 (0) 20 3958 6120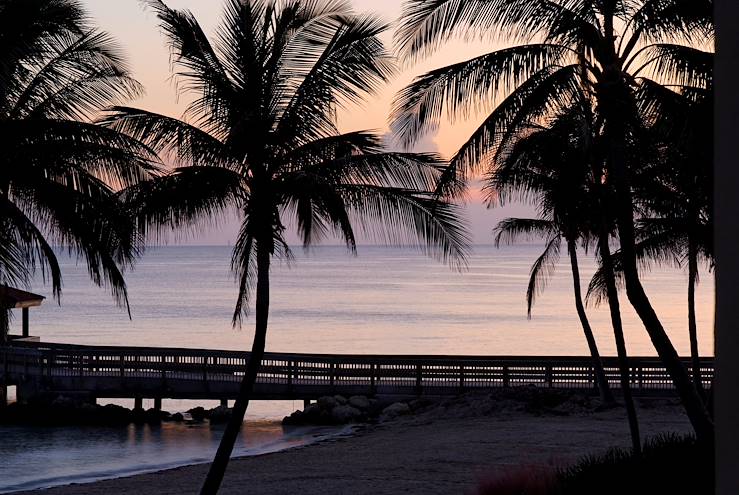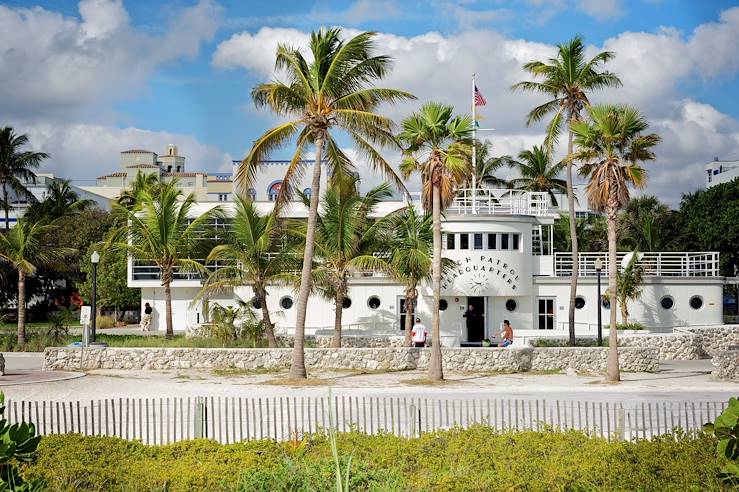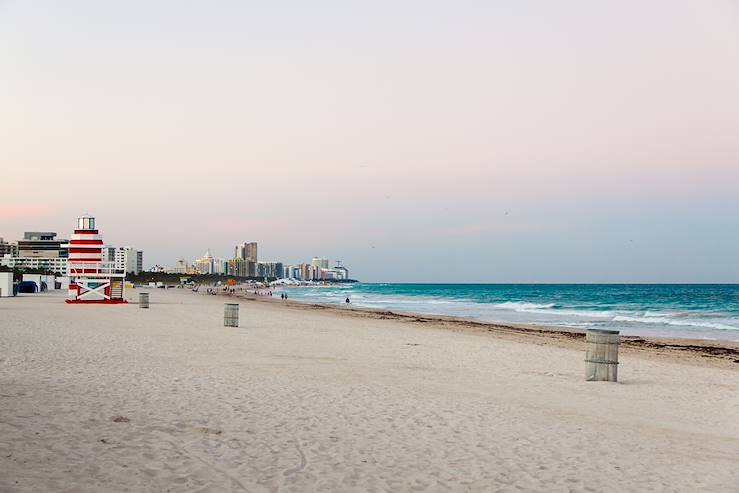 FROM NEW YORK TO FLORIDA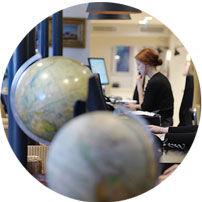 First stop:
New York
, Midtown. In Manhattan, Midtown is downtown's downtown. There are as many skyscrapers here as there are iconic landmarks, such as the Empire State Building, Grand Central Station and Times Square. The yellow taxis head off in all directions in the shadow of the grey Chrysler Building and green Bryant Park. Venture into Manhattan's other neighbourhoods: elegant Upper East Side, immense Central Park, bustling Little Italy and Chinatown, and SoHo with its trendy shops, before crossing the Brooklyn Bridge. A fast flight to Florida for the second stop:
Miami
. The city extends up to the Miami Beach Peninsula, with Ocean Drive along the immense golden beaches and Art Deco houses lined up in South Beach.
Across Biscayne Bay, lose yourself amid Wynwood's frescoed walls, take a break in the gentle, Caribbean Little Havana and stroll through the Design District. This two-speed trip is playful yet cultural, perfect with teenagers. A spring departure ensures that temperatures won't reach the extremes, but you'll feel the heat when the plane descends into Florida.


YOUR TRIP

Your accommodation - First, in the heart of Manhattan, in a former hat factory that has been transformed into a cool hotel. Have a drink under the light of lanterns on the rooftop, in front of the Empire State Building. In Miami, settle into your accommodation in the quieter streets of Mid Beach. This contemporary accommodation is a short walk from the beach and thinks big: a swimming pool, spa, outdoor cinema, bowling alley and ice skating rink to engage parents and children alike.
In the itinerary - In New York, you have a Metro Pass and City Pass, providing access to six attractions of your choice. We have also added some highlights to your New York itinerary, beginning with two walks with a local: the first is along the trendy, multicultural Lower East Side, south of Manhattan, and the second is to the Bushwick and Williamsburg districts on the Brooklyn side. In Miami, meet a local and visit Wynwood, a former ghetto that is now a temple of street art. The next day, cruise in a Zodiac boat to the mythical Bay of Biscayne, where you'll discover Miami from a different angle. The rest of the time, it's up to you to add various experiences. If you need anything during the trip, you have the contact details of our local Concierge.
Route
Everything is 100% tailored to you
Private transfer and accommodation for four nights in a hotel in the Garment District south of Times Square, where garment shops rub shoulders with showrooms. The rooms inside are elegant, with parquet floors, exposed brick and vintage furnishings, and rather spacious, which is not always true in New York.
Included in the itinerary - Your Metro Pass and City Pass, which provide access to six attractions of your choice, so you can go anywhere, from the Empire State Building Observatory to Ellis Island.
In the itinerary - A foodie walk in the Lower East Side, with a local who shares her love of the city, and the best things to eat. Over a few hours, she'll share the secrets of the Lower East Side: a neighbourhood sitting at the edge of the East River where a young creative generation have taken up residence. The brick-facade buildings have seen waves of immigration that built the city, and today the L.E.S. is full of historic sites and musical and culinary influences. Throughout the walk there'll be an opportunity to taste pastrami, bagels, dumplings and various kinds of doughnuts.
Included in the itinerary - Tickets for a 'Stomp' performance. The collective of artists who are also comedians, dancers and percussionists, perform their high energy percussion show using every day objects such as hoses, bins, brooms, buckets and sinks...
In the itinerary - Bushwick and Williamsburg with a local guide. Head to Brooklyn to explore the less crowded areas of Bushwick and Williamsburg, accompanied by a local who lives in New York. The first location is a new hipster hot spot that surrounds St. Nicholas Ave, White St. and Troutman St., with street art taking over the walls. The second, located south of Greenpoint, has welcomed numerous celebrities, including Mel Brooks, Alex Turner and Barbra Streisand. Williamsburg is still the playground for up-and-coming artists today, with little clubs next to specialised galleries and record stores that are bringing vinyl back to life.
Flight to Miami and private transfer to your hotel. Spend four nights in one of the last hotels designed by Ian Schrager, the hip hotel visionary. In the heart of the Mid Beach neighbourhood, both quiet and a just stone's throw from the bustle of South Beach, stay in a spacious room that opens onto a balcony overlooking the sea. On the ground floor, discover a bowling alley and an ice rink. Children will not want to leave.
In the itinerary - A visit to Wynwood with a local. Wander through the arty district of Wynwood, accompanied by a Miami local. The location features stunning frescoes, and has been the favourite playground of street artists since the 2000s. The city life on every side wants to be trendy, with festivals, craft markets, galleries and concerts. Next, you pull into a street-art workshop and let your imagination run free on a white canvas.
Go on a Zodiac boat outing through Biscayne Bay. Head offshore on a cruise in the chic Biscayne Bay dotted with yachts, sailboats and jet skis, south of Miami. During the tour you'll travel about 23 miles to see Venetian Islands, Flagler Monument, Fisher Island and Star Island celebrity homes. The upper deck of the Zodiac offers a great view of the Miami Bay and skyline.
Things to see and do - Stroll through the residential areas and trendy shops. Shop in Coconut Grove and visit Villa Viscaya, which exhibits an Italian Renaissance style. Feast on a Cuban meal in Little Havana. Take a dip in Coral Gables Venetian pool. Hunt for vintage sneakers at Sneak Attack, the lair of rare trainer fans. Visit PAMM, one of the best museums of modern art in the country. Stroll around Maximo Gomez Park, between dominoes and chess players...
Optional - An airboat trip to the Everglades. A day cruise in the private Keys islands.
DAYS 9 & 10
Miami - Return Flight
Return your hire car to the airport and catch your flight home. Overnight flight, arriving the next day.
A la carte
DISCOVERY OF THE EVERGLADES IN AN AIRBOAT
This large wilderness reserve will amaze both young and old. Many species of animals - alligators, manatees and flamingos among others - share this ecosystem. Take an airboat to zip at high speed through waterways and get a closer look at the wildlife. Several stops are pre-booked on the tour: at Gator Island you can see several species of crocodiles and alligators that stretch out in the sun and on observation platforms.
Optional


A CRUISE TO ONE OF THE SECRET KEYS
A day trip to the Keys Archipelago, exploring two wild and uninhabited islands: Boca Chica and Sand Key. These heavenly stretches of land are accessible by boat, surrounded by clear water and perfect for a refreshing swim or a snorkelling session. Return through Miami Bay and its various neighbourhoods, where some billionaires' villas are only visible from sea.
Optional
A Rough Idea of Price
Dependent on season, accommodation and activities
The estimated cost for this trip is £4,600 to £5,300 per person*. The final cost of the trip depends on the way we tailor it especially for you. The final cost varies according to several factors, which include the level of service, length of trip and advance booking time. The exact price will be provided on your personalised quote. The average price for this trip is £5000 per person*. * Excluding ChristmasNew Year: consult us for rates.
International flights with a scheduled airline
Airline taxes and fuel surcharge
The New York/Miami domestic flight
Private airport/hotel transfers
Two-night stay in New York in a quadruple room (accommodation only)
Two-night stay in Miami in a quadruple room (accommodation only)
City Pass to six attractions in New York
The New York Metro Pass
A foodie walk in the Lower East Side with a local
Tour of Bushwick and Williamsburg with a local
Tickets for the Stomp performance in New York
Walk around the street art in Wynwood with a local
Biscayne Bay Zodiac outing
Our local Concierge service
A GPS navigation service accessible from our app, loaded with your itinerary, hotel details and places to visit
A few of the benefits of travelling with us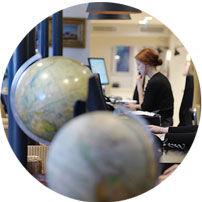 Get in touch
Our experts have the inside track on the destinations they sell and will tailor-make a holiday to your unique requirements.
Contact one of our USA specialists