Fly-Drive Colorado
Who: Couples and Families
From £1,645pp
Spend 12 days exploring Colorado in summer and discover why the state is just as much fun as it is in winter. With hiking, biking and scenery aplenty, this is the perfect outdoor adventure playground. And there's plenty of delicious local grub on offer too.
Itinerary at a Glance:
Explore Denver on foot and then finish the day sipping on a local craft beer or two
Soak up the sun at the top of Aspen's Silver Queen Gondola where there are plenty of activities to choose from
Drive the stunning Million Dollar Highway from Telluride to Durango
Go white water rafting in the US home of rafting, Buena Vista
Why Book with Original Travel?
Just a few of the extra touches that come as standard on an Original Travel holiday...
See More
All of the holidays we create are completely tailor-made to you
This sample itinerary is intended to give you a flavour of what we can do
The holiday begins today as you make your way to the airport in good time for a mid-morning flight to Denver.
One of our airport team will fast track you through check-in and security and then whisk you to the lounge for an hour or so to relax before you fly. Then, board the plane and settle in for the direct 10-hour flight.
Due to the time difference you'll land in the mid-afternoon the same day and will have time to pick your hire car up, drive to your city centre Denver hotel and then freshen up for dinner. We can recommend a restaurant and some things to see and do on your first night if you would like.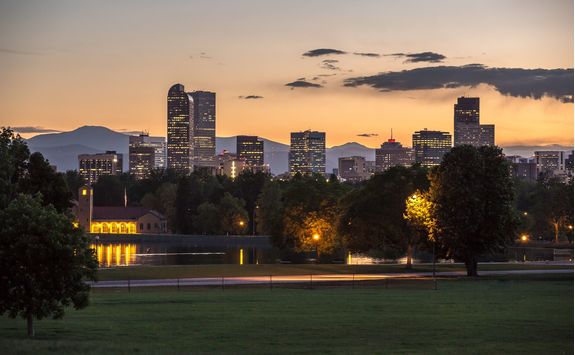 Day 2:

Discovering Denver
After a good night's sleep you have a full day to sightsee in Denver today.
Despite being the capital of Colorado, the city has a relatively small centre, meaning it can be explored on foot very easily. Some highlights include visiting historic Larimer Square where 19th century buildings offer insight into the city's past, the quirky Denver Art Museum, and the world-renowned Museum of Nature and Science.
While here we also suggest sampling some of the local produce on the Denver Beer Trail or in the bustling Central Market.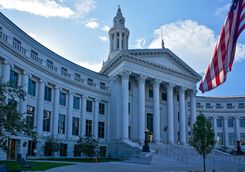 Hit the road today as the road trip gets going with a three-and-a-half-hour drive to Aspen.
En route you might like to stop in Glenwood Springs, a city in the heart of the Rocky Mountains famed for its hot springs. Soak in one of the many springs or simply wander around the city to stretch your legs.
When you arrive in Aspen, check in to your hotel and freshen up for an afternoon getting your bearings and enjoying this scenic resort town. It's worth taking the Silver Queen Gondola up to the top of the mountains, where there is a large sundeck and restaurant as well as numerous hiking trails and more gentle activities on offer on the surrounding lawns.
Day 4:

Another Day in Aspen
Since you have a full day in Aspen, to make the most of today we recommend making use of your hire car and venturing out of the town for some outdoor exploration.
Just 10 miles west of the town you will find the Maroon Bells, which are one of the most photographed places in Colorado - and for good reason. Park up here and spend the best part of the day exploring the hiking trails which surround the two maroon coloured mountain peaks and the reflective lake at their base. As you walk expect to traverse wildflower fields and lush forest, and pass fishermen on the lake's edge.
After an active day of adventuring, return to Aspen and enjoy dinner in town and a few drinks to celebrate your efforts.
Additional Activities
If you're in town on a Sunday, make sure you don't miss the weekly Bluegrass Sunday, where a local bluegrass band will take over the sundeck atop Aspen Mountain for an afternoon of music, food and drinks.
The road trip continues today as you say goodbye to Aspen and move on to Telluride. The drive will take around four hours without stops, but since you'll be passing through some stunning Rocky Mountain terrain, we suggest breaking the journey up a little.
One of the best places to stop is at the Black Canyon in the Gunnison National Park. Here you'll find some of the steepest cliffs and craggiest rocks in the US and you can traverse the trails at the rim of the canyon for amazing views.
When you're done exploring, hop back in the car and carry on driving to Telluride where you can check in to your hotel and then find somewhere to enjoy dinner - we have plenty of recommendations.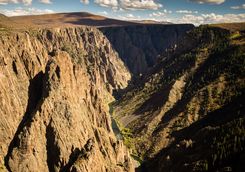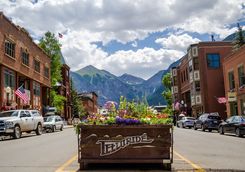 With a full day in Telluride you have numerous activity options today.
Telluride resort has both a dedicated bike park and a family-friendly high wire course so active travellers will be in their element. Pay a small fee to rent your gear and enter the parks, and then the day is yours to spend hurtling down mountainous race tracks or swinging through the air in a harness.
Alternatively, those who prefer to keep their feet firmly on the ground can enjoy some great hiking paired with a unique relaxing experience. Drive an hour out of Telluride to neighbouring Ouray, where there are some great walking trails and hot springs to relax in after. A particular highlight are the vapour caves at the Wiesbaden Hot Springs Spa & Lodgings where visitors can soak in the natural spring water in the atmospheric caves below ground, where water temperature can reach 25 degrees Celsius.
Whatever you choose to do, during the day, tonight relax and enjoy Telluride resort with dinner and drinks.
Additional Activities
Go canyoning in the caves around Ouray
Enjoy an adrenaline inducing mountain jeep tour
Today is perhaps the most scenic of this trip's driving days. Set off from Telluric early to make the most of the day and allow yourself plenty of time to enjoy the drive. As you leave Telluride head towards Highway 550, otherwise known as the Million Dollar Highway. Built in the late 1880's as part of the San Juan Skyway this is one of the nation's most spectacular drives and offers panoramic views from all angles of the winding road. It's a three-hour drive without any stops but we recommend you make the most of the amazing Colorado scenery.
When you arrive, settle in to your hotel and then wander around the resort, sussing out what kind of activity you want to do tomorrow. With Durango's claim to fame being that it encompasses a 'Dozen Vacations in One Destination', you'll be spoilt for choice.
Today is yours to spend as you please. Whether you choose to take it easy and relax or go in search of an active adventure is entirely up to you.
We highly recommend you take a trip on the town's famous Durango Silverton Narrow Gauge Railroad for the iconic Durango experience. Travel by rail to the stunning Cascade Canyon and enjoy the views as you wind through the lush mountains. You will then have a few hours to explore the canyon before making your way back to Durango in time for dinner.
Additional Activities
Visit nearby Mesa Verde National Park which is UNESCO recognised for its thousands of archaeological sites, including hundreds of ancient cliff dwellings.
Make the penultimate drive of the trip today as you travel four hours north to Buena Vista. The drive will take you through the Rio Grande National Forest, so as ever we suggest taking the drive slow and making time to stop and explore en route.
Just before you reach Buena Vista, stop off at the ghost town of St. Elmo. This old mining town was founded in 1880 and once had a population of 2,000 people, before its residents are said to have boarded a passing train and never returned.
After doing some exploring, make the final leg of the drive to reach your hotel in Buena Vista. We can recommend a place for dinner, or simply wander and find somewhere that takes your fancy.
Spend your last full day of the holiday enjoying all that Buena Vista has to offer.
Many regard the town as the US capital of rafting and we suggest starting the day by finding out why. Navigating along the rapids on the Arkansas River with an expert guide you'll feel the fresh Rocky Mountain air in your lungs, the cool river water on your face and a rush of adrenaline in your veins.
After drying off and refuelling spend the afternoon exploring any nooks and crannies that you haven't had the chance to see yet. Buena Vista is well known for its biking trails and bikes are readily available for rent in the town, so hire some and head out into the mountains. Whether a total novice or experienced rider there will be a trail or park to suit, and all the fresh mountain air and exercise should top off a an active and fun filed last day.
This evening, finish packing and then head into town for a final dinner.
Sadly the time has come to leave the mountains behind. Pack up the car and make the final drive back to Denver airport where you will be flying home.
The drive to Denver should take around two-and-a-half-hours but there will be time to stop for lunch on the way if you want to. Your direct, nine-hour flight from Denver to London departs this evening.
After flying through the night you will land in London this morning.
All of the holidays we create are completely tailor-made to you
This sample itinerary is intended to give you a flavour of what we can do
A Rough Idea of Price
While all of our holidays are completely tailor-made and prices will vary based on things like time of year and level of accommodation, we want to give you as good an idea of how much this itinerary will cost. The below prices are based on two people sharing.
This Itinerary
If you would like to book the itinerary mentioned above, with economy flights, during mid-season and staying in our preferred room category at our preferred hotels.
Bare Necessities
If you would like to pare back the above itinerary by travelling at non-peak times, staying in a standard room and removing some or all of the guided activities.
Bells & Whistles
If you are looking for something extra special, we can discuss with you upgrading your accommodation, flights or activities.
George and Ollie are our experts for this itinerary and as seasoned travellers they have the inside track on the most memorable adventures.