Mayflower Voyage Anniversary Trip
Who: Couples and Solo Travellers
From £1,525pp
400th Anniversary of the Mayflower Voyage
This week-long trip to Boston and Cape Cod immerses you in culture and history as you follow in the footsteps of the Mayflower Voyagers. Learn about the historic voyage on visits to the Plimoth Plantation and Pilgrim Monument and enjoy nature's wonders while whale watching and relaxing on idyllic beaches.
Itinerary at a Glance:
Experience the highlights of Boston on a walking tour of the city
Enjoy a wonderful whale watching tour
Drive from Boston to Cape Cod via Plymouth to visit the Plimoth Plantation and see the Mayflower replica
Explore Cape Cod and take a trip to Provincetown to see the Pilgrim Monument
Why Book with Original Travel?
Just a few of the extra touches that come as standard on an Original Travel holiday...
See More
All of the holidays we create are completely tailor-made to you
This sample itinerary is intended to give you a flavour of what we can do
Day 1:

International Flight
Begin your Mayflower Voyage ancestry trip with a seven-and-a-half hour direct flight from the UK to Boston.
Once you arrive, board the subway into town or hop in a taxi to reach your hotel. Spend the evening relaxing and settling in ready for a busy day exploring the city tomorrow.
Day 2:

Walking Tour of Boston
This morning, after enjoying a delicious breakfast in the hotel, head out for a walking tour of Boston.
With most of the sights concentrated in the downtown and bay area, you don't have to trek too far to take in the city's highlights - an ideal outing for the first day of your Mayflower Voyage ancestry trip. Get a taste for city life as you delve into the shops and restaurants in Quincy Market and Faneuil Hall Marketplace and, for a hit of culture, embark on the two-and-a-half-mile Freedom Trail that passes 16 locations significant to the history of the United States.
Once you're ready to give your feet a rest, jump on a hop-on hop-off bus tour of the city to continue the sightseeing.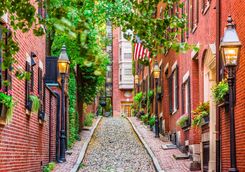 Day 3:

Sightseeing in Boston
Today, you'll be enjoying some more sightseeing in Boston.
To experience the city like a local, attend a baseball game and soak up the competitive spirit as you sit side-by-side with roaring fans. With regular games throughout the summer, this is an experience not to be missed on your Mayflower adventure.
Once the game has finished, swap sports for seafaring as you embark on a whale watching tour. With humpback, Fin and Minke Whales just offshore it is one of the best spots on the East Coast for observing these majestic creatures so you're really in for a treat.
Day 4:

Head Down to Cape Cod
This morning, after picking up your rental car, you'll be heading out south to Cape Cod via the seaside town of Plymouth, the first colony founded in 1620 by the Mayflower Pilgrims.
During your time in Plymouth, you'll have the chance to be immersed in culture and history. Begin your tour of the town's highlights by visiting the Plimoth Plantation which aims to authentically replicate life as it was for the first hard years in the Plymouth Colony. With costumed interpreters playing the role of the people who lived here while conversing in 17th century English, experience the feeling of stepping back in time.
Other sights to see during your visit to the town include the replica of the Mayflower II ship which carried 102 settlers and 30 crew; the National Monument to the Forefathers; and The Pilgrim Hall Museum.
Hop back in the car, your mind racing with fascinating historical facts, to carry on your journey to the Cape Cod where you'll be staying for the next four nights of your Mayflower Voyage ancestry trip.
Day 5:

Settle into Cape Cod
Today you'll have the chance to immerse yourself in serene seaside surroundings of Cape Cod. With its quaint fishing villages and bounty of beautiful beaches, there's plenty to delight on a visit here.
For wildlife lovers, there's the option of going on a whale watching tour or, for those wanting to explore a little further afield, Nantucket and Martha's Vineyard are easily reachable on a day trip.
Day 6:

Head to Provincetown
Finish off your Mayflower Voyage ancestry trip with a visit to Provincetown, the place where the pilgrims landed before moving on to the more protected Plymouth.
Here, you can see the Pilgrim Monument which towers above the town (the tallest all-granite structure in the United States). At its base, is a museum where you can learn about the history of the area from Native Americans through to modern-day USA.
Day 7:

Relax on the Final Day
The final day of your Mayflower Voyage ancestry trip is yours to spend as you please.
Head to Sandwich - the oldest town on Cape Cod - to peruse the glassware shops and workshops and visit the Dexter Grist Mill which was built in 1646 and still grinds flour using water power.
Alternatively, you may wish to spend your final day on the water and enjoy a Pilgrim's perspective of the coastline on a fun boat trip.
Day 8:

Time to Return Home
Your Mayflower Voyage ancestry trip has come to an end. After a lazy morning, you will make your way back to Boston Logan airport to drop off the car and make the six-and-a-half-hour flight back to London, arriving before lunchtime.
All of the holidays we create are completely tailor-made to you
This sample itinerary is intended to give you a flavour of what we can do
A Rough Idea of Price
While all of our holidays are completely tailor-made and prices will vary based on things like time of year and level of accommodation, we want to give you as good an idea of how much this itinerary will cost. The below prices are based on two people sharing.
This Itinerary
If you would like to book the itinerary mentioned above, with economy flights, during mid-season and staying in our preferred room category at our preferred hotels.
Bare Necessities
If you would like to pare back the above itinerary by travelling at non-peak times, staying in a standard room and removing some or all of the guided activities.
Bells & Whistles
If you are looking for something extra special, we can discuss with you upgrading your accommodation, flights or activities.
George, Abigail and Ollie are our experts for this itinerary and as seasoned travellers they have the inside track on the most memorable adventures.