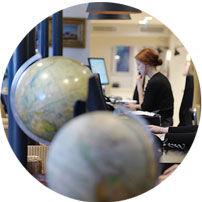 The Portuguese talk about a sense of 'saudade': a melancholic yearning, often for something you can't quite put your finger on. We know the feeling, because there's a dawning realisation that as we speed ever faster into the future, we often forget to check the rear-view mirror to consider what's been left behind. As and when we in the West do stop to admire the view (or lift our heads from our devices), we might notice that the skills we took for granted for generations have been lost in a relative heartbeat. So, if you ever feel you've become unplugged from the natural world, or that there are
some practical skills that you really should have in your locker, then it's time to embrace our new concept: Reconnect Travel.
Reconnect Travel Ideas
A few suggestions to get the holiday planning process started
Reconnect Travel by country
A few of the benefits of travelling with us
Review
What our clients say about us
This is the first time we went on a trip with Original Travel, a specialist advisor who listens to our expectations, and really the feeling of being pampered from departure to arrival. The concierge service is so efficient that we quickly become addicted.
Reconnect Travel Guide
Practical advice, client testimonials and inspiration to help you prepare for your holiday
Contact one of our specialists