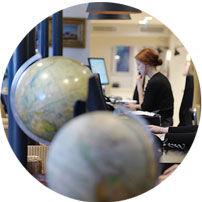 There are a thousand ways to explore Spain and a self-drive tour is one of the most enthralling. In one day you can discover some of the greatest architectural sights the country has to offer; eat incredible tapas in tucked-away bars; sink your toes into the silky-soft sand of hidden smuggler coves while sipping sangria; and feel the burn as you stomp up mountains and hills for incredible panoramic views of the lush landscape. You can just as easily spend your days relaxing on hammocks, retreating only for tasty tapas washed down with beer, occasional dips in the ocean and chats with friendly locals.
Spain road trips are of your own creating and they can be as packed or peaceful as you please. Begin in Barcelona, where you can enjoy the thrumming nightlife that spills out onto the lamplit streets from rammed bars and restaurants. From there, go on a hiking adventure in the Pyrenees and witness the wild untamed beauty of Spain before really getting under the skin of Andalucía with a visit to Seville, Granada and Cordoba. As you make your own way through Spain it's hard not to fall hook, line and sinker for the passion, history and beauty that's found at every turn.
Spain Iconic Road Trips Ideas
A few suggestions to get the holiday planning process started
A few of the benefits of travelling with us
What our clients say about us
Spain customer reviews (4 reviews)
4.5/5
I must tell you that you made a believer out of me. I travel a lot for business globally and everything you organised was top of the line. I was so enthusiastic about your team that I gave your coordinates to my flight neighbour. It says it all! Thank you for a wonderful vacation to Spain.
Spain Guide
Practical advice, client testimonials and inspiration to help you prepare for your holiday
Contact one of our Spain specialists