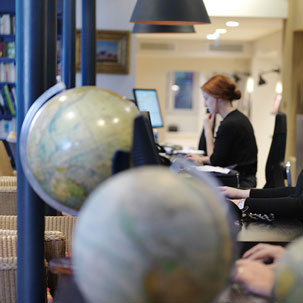 CAMBODIA expert
What made you fall in love with Cambodia?
My first visit was in 1997, when I visited on a backpacking trip. The Angkor temples were almost deserted back then and the atmosphere of mystery wandering through these largely unexplored sites was incredible. Of course, experiences like that are impossible to get now – at least at Angkor - but the temples still have an amazing vibe that no-one can be immune to.
How well do you know Cambodia?
I lived in Cambodia for four years, so it's safe to say I know it pretty well!
For a first trip to Cambodia, what would you recommend doing?
The absolute must see is of course Siem Reap and the Angkor Temples, with at least one-and-a-half days dedicated to the temples themselves. A good overview of the main sites would include Angkor Wat, Angkor Thom (with The Bayon and a walk along the wall), Ta Prohm, and a couple of other temples (my suggestions would be Ta Som and Preah Khan). An afternoon should also be spent visiting the floating villages of the Tonle Sap (Southeast Asia's largest lake). 
And what about for a 'Deeper Cut' more in depth trip?
Spend another one or two days at the Angkor Temples to see some of the outlying sites (Koh Ker or Banteay Chhmar), Phnom Penh for the Khmer Rouge history and either the south coast at the charming seaside town of Kep or the Cardamom Mountains for something more off-the-beaten-track. I'm a very keen photographer and have visited a lot of the less well-known temple sites to photograph them. A few years ago I visited beautiful Banteay Chhmar in December – which is basically high season – and there was not a soul there.
What has been your most satisfying moment in the country?
I helped develop a programme for exploring Angkor away from the crowds. The site is one of the most remarkable in Asia but can get very crowded as a result. We studied the footfall at many of the main temples in the complex including where the big groups go and when, meaning that (aside from Angkor Wat itself, which is always popular) we can tailor your visits to avoid the masses.
Where have you not been in Cambodia that you are desperate to go to?
There is a temple called Preah Khan of Kompong Svay (not to be confused with the Preah Khan at Angkor) which is a remote and unrestored site in the jungle. It's really hard to access but would be amazing to see.
What's your insider tip for Cambodia?
Don't haggle with tuk tuk drivers. Just get in, tell them where you want to go and then give them the fare when you get out. It should be around £1 per person within the centre of town and £2-3 per person for anywhere a little further from the immediate centre. 
Is Cambodia somewhere to go as a couple or with family?
Cambodia is excellent for both couples and families, being extremely child-friendly.
What's one place in Cambodia that you could go back to again and again?
The Angkor temples. I never get tired of them even though I have photographed every corner...
What's the best local food to order in Cambodia?
The local speciality is amok, a lovely creamy coconut dish with fish or chicken. Yum!
What is the perfect souvenir from Cambodia?
The de rigueur souvenir from Siem Reap is a box of Angkor cookies, which have a long and intriguing history, but personally I would say a krama - a traditional Cambodian scarf worn by almost everyone. 
What's the best book you've read about Cambodia?
First They Killed My Father by Loung Ung is a good starting point to learn about the Khmer Rouge era. It was made into a film by Angeline Jolie in 2017.