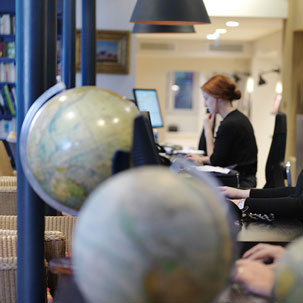 BOTSWANA expert
When did you first visit Botswana and what was your first impression?
My first two visits to Botswana were as a child and were to visit friends who lived in Gaborone, which was just a hop across the border from South Africa, where I'm from. My first taste of a Botswana safari was 20 years ago. We visited the busier eastern side of the Chobe, but it left a mark and I couldn't wait to head back to the more remote areas. Since that trip in 2002 I have done three further trips to the country and have visited most of the camps in the Okavango, Linyanti and Savuti.
Why do you love Botswana so much?
The wildlife viewing is incredible and there are very few camps – resulting in a very pure, authentic safari experience. You can drive for hours and not see another vehicle. Top of the list for most people is the Okavango Delta, but there is so much more to the country than the Delta. Other areas such as the Linyanti/Savuti, Central Kalahari and the more remote, western areas of the Chobe offer equally exciting wildlife opportunities.
What's been your most memorable experience in Botswana?
There have been so many incredible moments, it's hard to pick just one! One of the most memorable sightings was watching from a helicopter as a cheetah successfully hunted down an impala. I have had multiple sightings of the usual big game such as leopards, lions, cheetahs, wild dogs and elephants, but the smaller, more elusive animals such as civets, aardwolves, honey badgers, African wild cats and genets provide just as big a thrill.
Recommendations for Botswana
What would be your top recommendation for someone visiting Botswana for the first time?
Take it slow; do not try to cover too many areas. As a first visit I would recommend combining a camp in the Okavango with one in the Linyanti/Savuti. This should provide wonderful wildlife viewing in two vastly different areas. Avoid Chobe – especially the Chobe Waterfront area, as there are too many camps and lodges, resulting in high traffic.
Is there somewhere you haven't had a chance to visit yet that you'd love to go?
I am yet to visit the Central Kalahari, which is about as remote as it gets. There are just two permanent camps in an area of almost 20,500 square miles. Despite the harsh, semi-desert environment, wildlife is surprisingly plentiful here – the park is home to good numbers of cheetahs, lions, leopards, ostriches and oryxes.