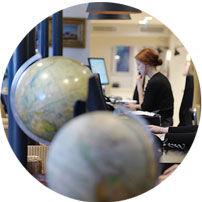 Kalahari Desert and Makgadikgadi Pans holidays showcase Botswana's extraordinary diversity from the Kalahari grasslands to the lunar-like Makgadikgadi salt pans. During the green season (November to April) this semi-arid expanse is miraculously transformed, attracting thousands of lions and leopards, kudu and springbok, among many others. The world's largest super-lake once occupied the current site of the Makgadikgadi Pans. Today, this salty stretch attracts a wealth of spectacular birdlife, including vast flocks of pelicans, flamingoes and cranes. Add to this the astonishing ancient cave paintings
at Tsodilo Hills that date back many thousands of years; the prospect of meeting meerkats up close; quad biking across the desert; and sleeping under the stars - and this trip sounds anything but dry!
The Kalahari Desert & the Makgadikgadi Pans Holiday Ideas
A few suggestions to get the holiday planning process started
Botswana Regions
Discover more 100% tailor-made holiday ideas
A few of the benefits of travelling with us
What our clients say about us
Botswana customer reviews (4 reviews)
4.5/5
Amazing, trip of a lifetime, absolutely great and everything went according to plan, thanks to everyone involved.
Botswana Guide
Practical advice, client testimonials and inspiration to help you prepare for your holiday
Contact one of our Botswana specialists