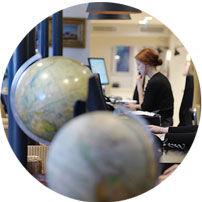 When it comes to safari spots that offer the perfect blend of luxury and adventure, Botswana is one of our all-time favourites. The country is home to some of the best private game reserves on the continent, along with landscapes of unparalleled natural beauty, ranging from the lush grasslands of the Okavango Delta to the immense plains of the Kalahari Desert. Given these spectacular habitats, Botswana also excels in terms of game sightings; the single highest concentration of elephants in the world roam Chobe National Park, while the skies above Moremi Game Reserve are filled with an abundance of birdlife.
For a truly unforgettable safari escape, time your Botswana safari holidays to coincide with the region's green season, which runs from November to April (outside of peak tourist season). Following the annual rainfall, the arid lands of the Kalahari are transformed into a verdant utopia, bringing about once-in-a-lifetime wildlife viewing opportunities.
Botswana Safari Holiday Ideas
A few suggestions to get the holiday planning process started
Safari Holidays by country
Other Botswana collections
A few of the benefits of travelling with us
What our clients say about us
Botswana customer reviews (4 reviews)
4.5/5
Amazing, trip of a lifetime, absolutely great and everything went according to plan, thanks to everyone involved.
Botswana Guide
Practical advice, client testimonials and inspiration to help you prepare for your holiday
Contact one of our Botswana specialists