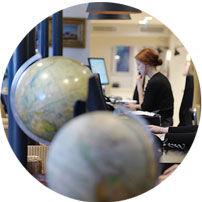 Safari holidays are as much about appreciating the natural beauty of the untamed landscapes as they are about admiring the spectacular wildlife, and embarking on an eco-conscious safari is the best way to preserve both for future generations. If you're in search of a sustainable safari destination, Botswana fits the bill perfectly. As the pioneer of 'high yield, low impact' tourism, you're guaranteed unspoiled surroundings and once-in-a-lifetime wildlife sightings, along with the peace of mind that you're contributing to the country's conservation efforts. Become acquainted with the animals of the Okavango Delta on a riding safari,
a more ethical but equally epic way of experiencing the environment. Take part in relocating endangered rhinos and feel an indescribable sense of euphoria as you watch these stoic creatures safely run free. Travel during Botswana's aptly named 'Green Season' for fewer people and lush verdant landscapes. We'll also absorb 100% of the carbon emissions from your flights and ground transportation as part of your responsible travel to Botswana, to make your eco excursion even greener.
Responsible Travel by country
Other Botswana collections
A few of the benefits of travelling with us
What our clients say about us
Botswana customer reviews (4 reviews)
4.5/5
Amazing, trip of a lifetime, absolutely great and everything went according to plan, thanks to everyone involved.
Botswana Guide
Practical advice, client testimonials and inspiration to help you prepare for your holiday
Contact one of our Botswana specialists