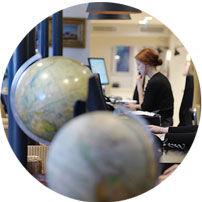 The Northern Lights, dog-sledding and igloo-dwelling are just some of the things on offer on Swedish Lapland holidays. Pack a few extra layers and head north for a Swedish adventure in a true Narnia-esque landscape because Swedish Lapland holidays are ideal for anybody - families and couples alike - looking for a trip full of activities in nature. Made up of the northernmost quarter of Sweden, and covered by lakes, mountains and forests, this region feels like a million miles away from the hustle and bustle of day-to-day life. In summer, there is hiking and canoeing galore; but it's really in winter when Swedish Lapland takes centre stage,
showcasing Abisko National Park, the Torne River and Lulea on the sea. These three are staging posts for all manner of arctic adventures, from dog-sledding and snowmobiling to ice fishing and Northern Lights spotting (mitten covered fingers crossed) and much, much more. We'd definitely recommend taking time to learn about indigenous Sami culture on a visit to a local reindeer herder, and in the Lulea region heading out on to the pack ice on a hovercraft safari. Sounds tiring, right? Come the end of the day Swedish Lapland holidays have one more ace to play - some of the most original (we like original) accommodation anywhere in the world, from enormous ice-sculpture filled igloos to treehouses designed like UFOs and remote cabins in snow-clad forests.
Swedish Lapland Holiday Ideas
A few suggestions to get the holiday planning process started
Sweden Regions
Discover more 100% tailor-made holiday ideas
A few of the benefits of travelling with us
What our clients say about us
Sweden customer reviews (5 reviews)
4.7/5
I have no doubt I will use your company again in the future. You provide wonderful holidays and excellent service.
Sweden Guide
Practical advice, client testimonials and inspiration to help you prepare for your holiday
Contact one of our Sweden specialists