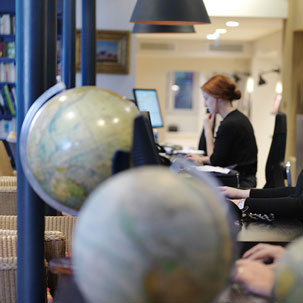 EGYPT expert
Why do you love Egypt so much? 
Egypt is famed for having the most ancient of histories, mostly a result of its strategic geography. It is simultaneously African and Arabic; fed by the Nile and embraced by the Mediterranean and Red Sea; traditional but also youthful. Exploring the historical sites, you can listen to endless stories spanning thousands of years – or just enjoy the incredible visual feast of the temples and pyramids. And when city sights are too busy, you can snorkel or dive from the Mediterranean and Red Sea beaches. It's a full package and so close to Europe. 
When did you first visit Egypt and what was your first impression? 
I spent almost three weeks in Egypt in 2010, starting in Hurghada and ending in Cairo. I still remember the smile and efficiency of the representative who met me at the airport, which was mirrored everywhere along the way. I saw a country bristling with energy - proud of its famous history and ready to forge a new future. 
What is your all-time favourite place in the country? 
In Aswan, at the end of my Nile cruise, I took a trip on a local sailing boat, known as a felucca, to Kitchener's Island. The fantastic botanical gardens are an oasis away from the busy city, enjoyed by visitors on two legs as much as by the abundant green bee-eaters and pied kingfishers. 
What's been your most memorable experience in Egypt? 
While staying in Sahl Hasheesh to slow down to the local pace of life before some serious sightseeing, I took on a few days of diving. Following manta rays and angel fish to the edge of the reef I felt the vulnerability of hitting the cold water and the dark sea below – a perfect reminder that I was in their world. Emerging back on the surface we saw the other side of this interaction, watching a pod of dolphins and a bale of turtles frolicking in the surf from the boat. 
Recommendations for Egypt
What would be your top recommendation for someone visiting Egypt for the first time? 
Take your time! It's so tempting to tick off all the sites from your list without ever truly experiencing the country. An extra day to visit a local market or go on a food tour around Cairo (the street food in Cairo is excellent) will restore your energy for the next history lesson. Also, remember it is hot most of the year, especially around Luxor and Aswan, so make sure to pack light, breathable clothing.
What's the perfect souvenir to bring back from Egypt? 
As a fan of Liverpool Football Club, it has to be a 'Pharaohs' (as Egyptians call their national football team) shirt with Mohamed Salah's name on the back! 
What's been your best foodie experience in Egypt?  
The street food in Cairo is excellent. Everyone knows falafel and shawarma, but my favourite was fiteer baladi, a sort of filo dough pizza, stuffed with meat. I also considered myself privileged to be in Hurghada for a local feast, where I was able to try a delicious mutton stew, Fattah, eaten in the home of a new friend.  
Is there somewhere in Egypt you haven't had a chance to visit yet that you'd love to go?  
Two sites are tied at the top of the list: the step pyramid of Djoser at Saqqara, a great contrast to the more geometric forms which followed in Giza, and the coloured columns in the temples of Abydos and Denderos, north of Luxor. 
What's one place in Egypt that you could go back to again and again? 
Aswan is often overlooked but has so much to offer and sees far fewer visitors than Luxor. I loved visiting the Nubian Museum, a great insight into local society beyond the influence of the Pharaohs. There were so few foreign visitors, I felt I was making new discoveries round every corner. As a jumping off point for trips on the Nile and Lake Nasser, I will return as often as I can! 
Is Egypt somewhere to go to as a couple or with family? 
Egypt is great for every type of traveller. Families will appreciate the key sites, which are very visual and accompanied by fantastical stories, and there are plenty of family-friendly hotels with pools to retreat to. Meanwhile, a holiday combining the Great Pyramid, a boat trip on the Nile and snorkelling in the Red Sea makes for a magical honeymoon.