Location:
The Coffee Triangle, Colombia
What 3 words:
flimsiest.fantastical.mastery
Hacienda Bambusa is situated in the southern part of Colombia's coffee region, lying amidst a labyrinth of fruit plantations and guadua bamboo forests. Surrounded by the towering peaks of the Andes, the hacienda is a peaceful retreat in an area of immense natural beauty.
Within this picturesque hacienda is the main house, which is crafted from bamboo and clay tiles, inspired by the traditional houses dotted throughout the coffee region. There are seven spacious rooms, all offering views of either the pristine pool or the lush hotel gardens. Each room is complete with a private bathroom, a seating area and complimentary Wi-Fi access. All accommodations boast private balconies or terraces with a hammock - the perfect spot to recline and admire the stunning scenery.
The kitchen is run by a private chef and each night she creates a tasting menu, incorporating dishes and foods from the different regions of Colombia. The hacienda raises its own cattle and cultivates everything from cocoa to tangerines to pineapples.
Spend your days exploring the wonders of this beautiful region and enjoy a tour through the Haciendas' cultivations. Led by an expert biologist, you will learn about the growing processes of the produce and will meet many hacienda workers along the way. At the heart of the Coffee Zone is Salento - a bustling market town that is the gateway to the Los Nevados National Park - and it is definitely worth a visit. Adventure activities range from zip lining to paragliding and avid hikers will be in there element here, as the Andes are the perfect place to explore on foot.
Why We Love It

Learn about the cultivation of coffee from seed to cup at a nearby coffee farm, Hacienda Bruselas, which only opens its doors to Bambusa's guests.
Ollie, Original Traveller
Itineraries that feature Hacienda Bambusa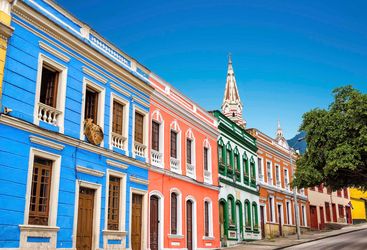 Best for: Couples, Honeymoons, Families, Groups and Solo Travellers
Colombia Highlights
Colombia's trendy cities and diverse landscapes hold immeasurable treasure, most of which still feels undiscovered. This 14-day itinerary uncovers...
14 Days
From £4,055pp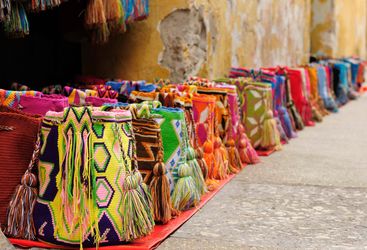 Best for: Couples and Honeymoons
Romance in Colombia
Colombia is wild and romantic. Its sunny days and balmy nights have the capacity to sweep you off your feet. This 12-day itinerary takes you...
12 Days
From £3,135pp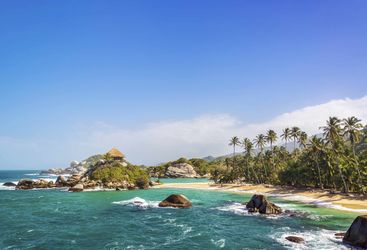 Best for: Couples, Honeymoons, Families, Groups and Solo Travellers
Colombia Close Up
Colombia has it all. Towering mountains, fun cities, bountiful national parks, ancient ruins and ravishing beaches, all cradled between the Pacific...
21 Days
From £4,965pp
Other Places to Stay in The Coffee Triangle
Hacienda San Jose
Hacienda San Jose is a traditional hacienda, with a distinctly authentic air about it.
Sazagua
Sazagua is located in the heart of the coffee region in the Central Andes, and one of the best boutique hotels in this region of Colombia.
Hacienda Buenavista
Located in the stunning, mountainous coffee region of Quindio, Hacienda Buenavista is a peaceful, adult's only boutique hotel, set amid 100...
At Your Service
We rarely boast about our service but we believe it's what sets us apart and makes us truly original, so please forgive this moment of unabashed self-promotion.
Start creating your tailored trip today
Our thoughtful experts are ready with ideas, inspiration and advice for your next journey.
Working with you we'll craft an unforgettable trip and tailored itinerary.
We're here to help with everything while you're away from the smallest to the biggest request.
Ollie is our 'Hacienda Bambusa ' expert and as a seasoned traveller has the inside track on the most memorable adventures.