Itinerary Highlights
The effervescence of Bogota, the hills of the coffee region, true remoteness in Providencia and the Caribbean sweetness of Cartagena


A selection of beautiful accommodation


Private tours, meetings, hiking, coffee tasting and percussion lessons are already included in the itinerary


Domestic flights, private transfers, local Concierge: all reasons to travel with us
Contact one of our Colombia specialists + 44 (0) 20 3958 6120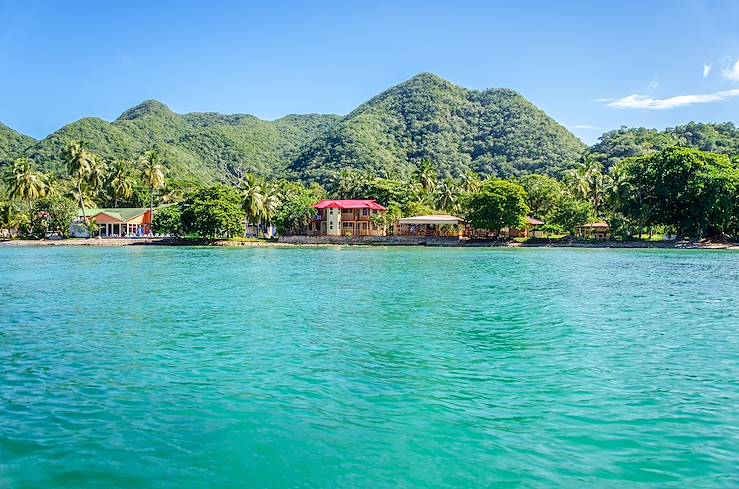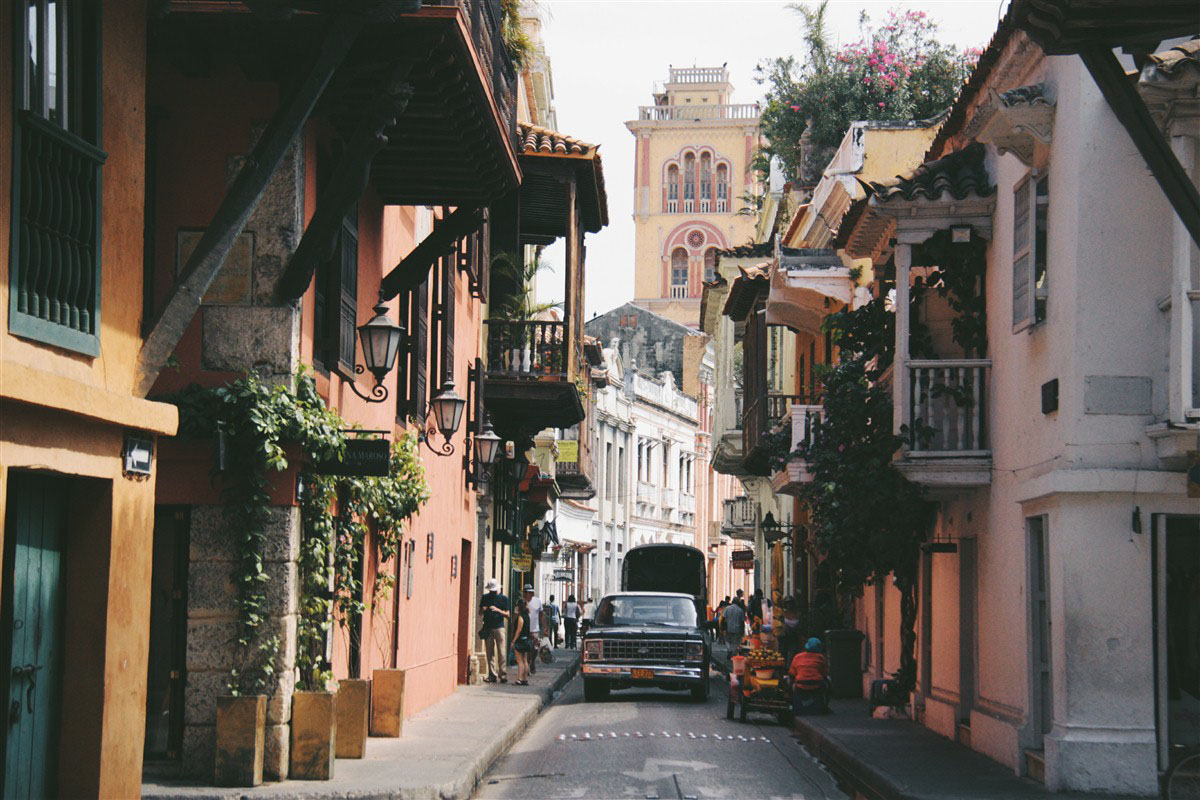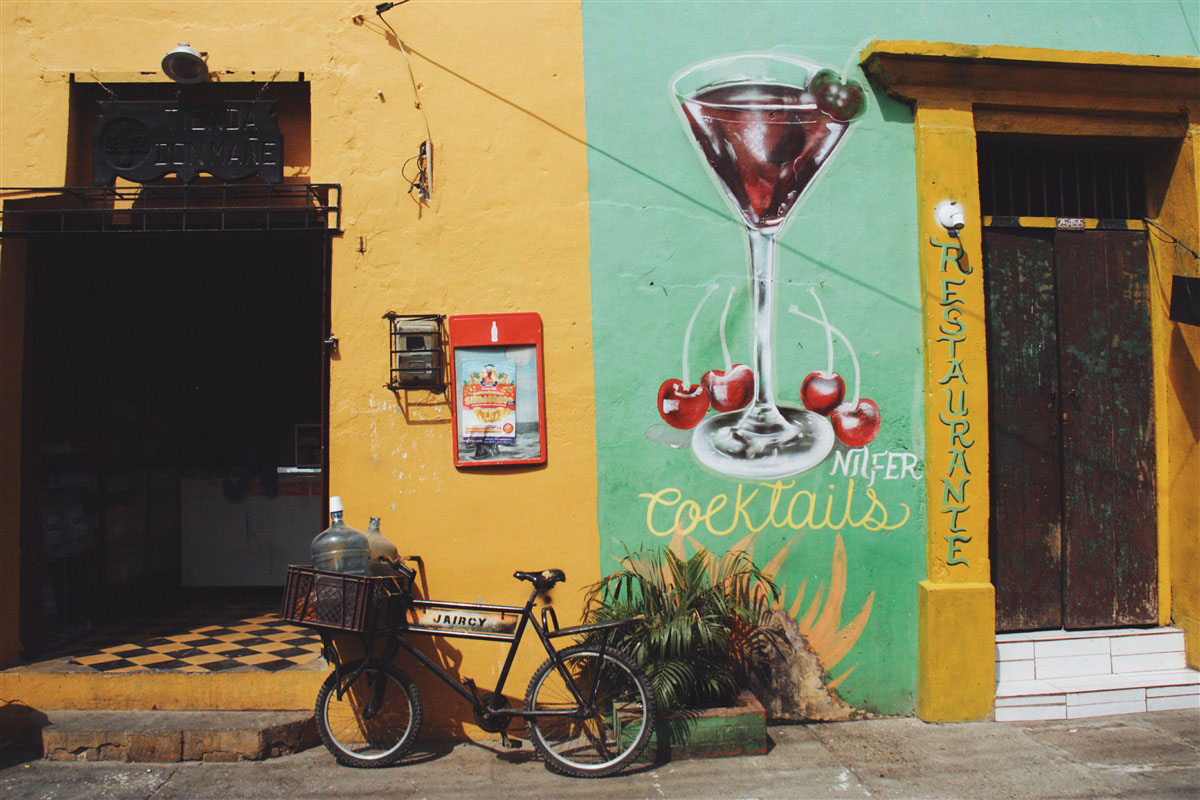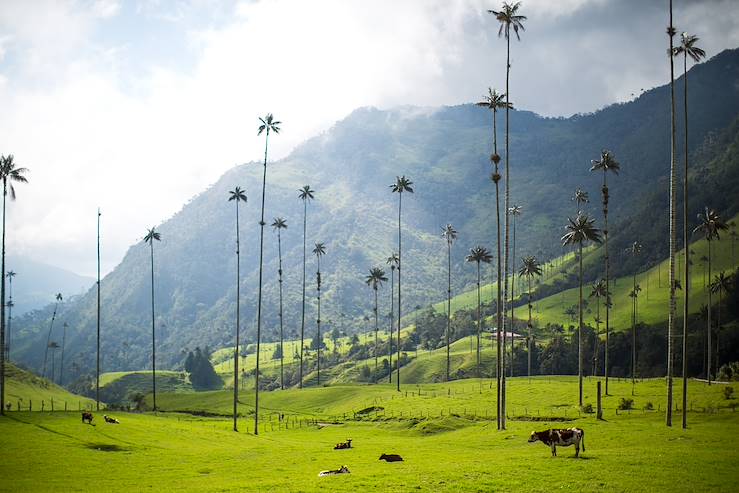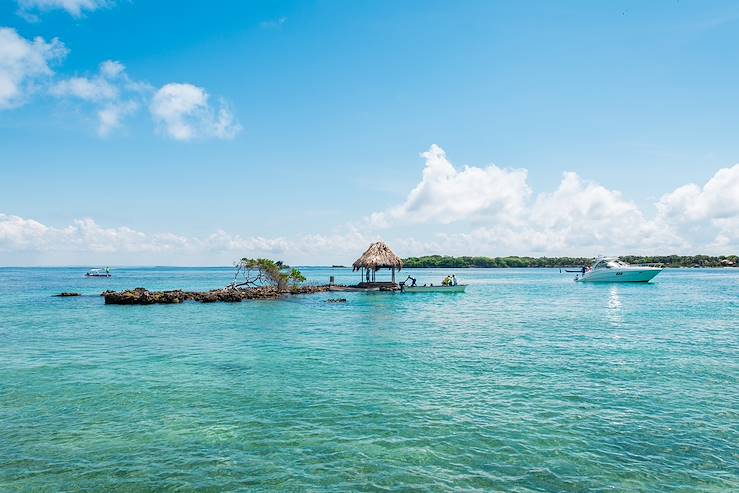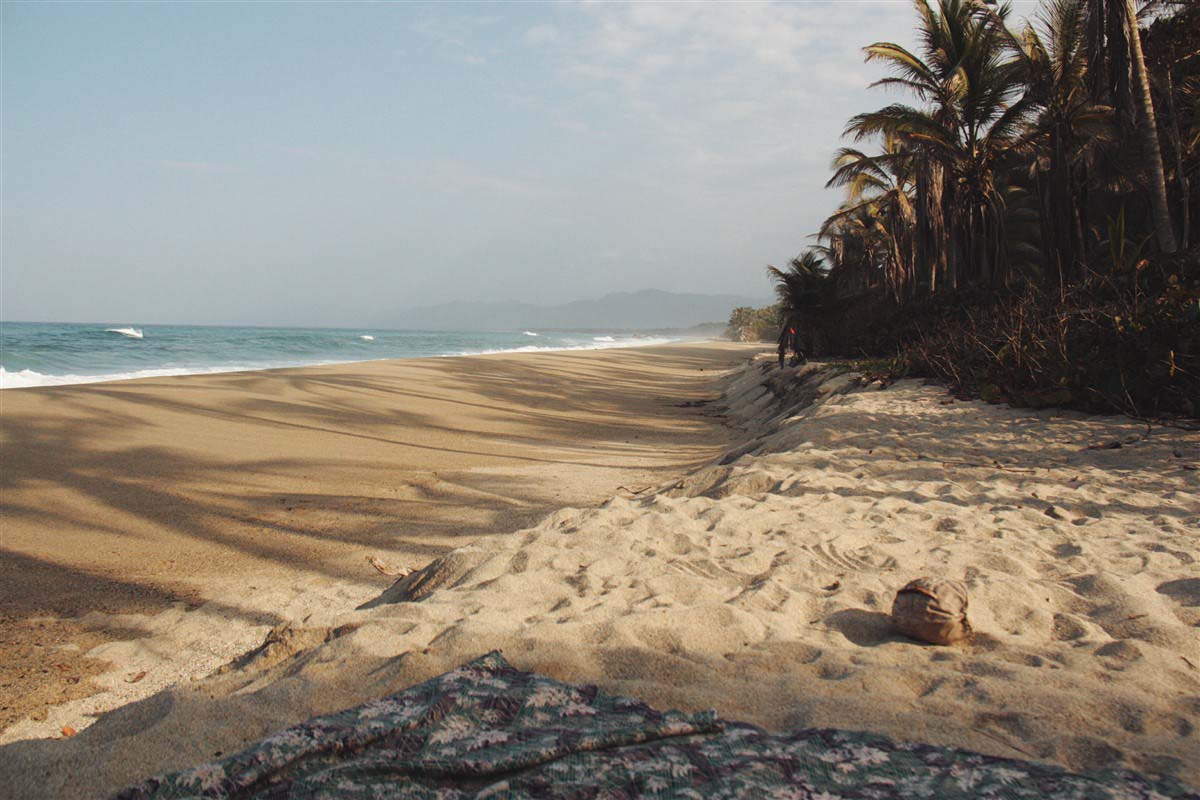 AS A COUPLE - AN EL DORADO PANORAMA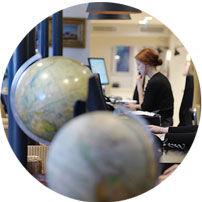 This trip is designed for honeymooners and adventurous couples in search of a privileged insight into teeming cities and thrilling nature, while eager to experience a balance between beautiful encounters and precious moments together. Colombia lends itself to great journeys for couples: it combines all the colours of Latin America, while revealing its unique personality.
This relaxed itinerary offers an almost complete overview of legendary El Dorado, its iconic cities and charismatic landscapes. The trip starts at
Bogota,
perched at 8,500ft in the Andes. The capital embodies the country's current cultural dynamism. It's easy to explore the colourful facades of Candelaria,
the pre-Colombian treasures of the Gold Museum and the imaginary world of Colombian artist Botero, before entering that of today's artists by visiting their workshops. Then climb up the gentle hills of the coffee region to discover rich landscapes with their native species. This green region's entire way of life revolves around the precious black beans, so wisely planted, harvested and picked. Not to mention the region's many colourful orchids (the national flower) and the Cocora Valley's high Andean palms (some 230ft high!). On the topic of nature, it's then off towards the Caribbean Sea and Providencia, an island of almost seven square miles off the coast of Nicaragua. Its somewhat complicated access (no direct flight) has preserved its wild beaches and exceptional seabed. British settlers left as a legacy a particularly laidback population, some ruins and a gentle creole mixed with English phrases. Finally, head for one of Colombia's key sights: Cartagena. An exciting Caribbean city - move to the beat of its night-time parties and spend the day strolling along romantic ramparts, in the shelter of the ancient palace, all while appreciating the city's mild tropical climate.




YOUR TRIP
In four parts to see Colombia in all its glory. Private transfers or domestic flights are available between stages. And we took care to include guided tours in Bogota and Cartagena in your itinerary, a meeting with artists in the capital, a day of hiking in the Cocora Valley, a visit to a hacienda specialising in coffee farming and even a percussion lesson to introduce you to local rhythms. After that, you are free to spend more time exploring or as a couple in the conveniently-located accommodation we have selected for its harmony with nature and charming atmosphere. Need a last-minute reservation or to pay for an unforeseen event? Our local Concierge is available at any time.
Route
Everything is 100% tailored to you
Greeting on arrival and private transfer to the lively Zona Rosa district, slightly away from the centre. The hotel where you will stay for three nights strikes a balance between Colombian elegance and international standards. Straight lines, fine materials and a certain style of life is reflected in every detail. The rooms are decorated with light, clean colours and contemporary furniture. In the bathroom, Hermes and Lanvin branded products accentuate the 'French' feel.
Included in the itinerary - A guided tour of Bogota's historic centre and Montserrate hill. Bohemian and colonial, the Candelaria (historic centre) is a labyrinth of alleys, little squares, churches and pastel facades topped by balconies. You can stroll around here to discover Santo Domingo's artists and craftsmen. Visit the neighbourhood art school, an establishment which teaches gold, wood, leather and embroidery work with the skill and finesse the country the country is famed for. Then it's on to the see the universe of local artists Fernando Botero, whose curvy works are known worldwide. The tour continues with the Gold Museum, which gives an overview of every region and offers a beautiful insight into pre-Colombian civilisations and Colombian history. Finally, climb to Cerro de Montserrate, an ancient 17th-century chapel perched on the eastern side of the city, at 10,340ft, for a stunning view of the capital and the central mountain range. The next day, a local artist will walk with you to meet some of the city's artists. Painters, sculptors and photographers create the country's new cultural canvas. Meeting them offers an essential insight into Colombia today.
DAY 4
Bogota - Armenia (coffee region)
Private transfer to the airport and flight to Armenia in the heart of the Coffee Region. Another private transfer and accommodation for three nights in a bamboo house nestled in the mountains, between cocoa and banana plantations. The decoration, as well as the cuisine, is very refined. It's the perfect place to start to explore the area.
DAYS 5 & 6
Armenia (coffee region)
Included in the itinerary - A day's hike in the Cocora Valley, home of the national tree, the Quindio wax palm, which can reach 230ft tall and grows in the high mountains. You'll see them during a beautiful walk to the Acaime Reserve, a haven for many birds such as the iconic hummingbirds. The way back takes you via another route, over the spectacular ridges and off the classic tourist trails, which allows you to appreciate these exceptional landscapes. Finally, the walk ends at the village of Salento, whose pleasant historical centre buzzes with local life. The next day, you head to one of the region's typical haciendas. Aim: To understand how the region's black gold is made, from tree to cup, from bean selection to roasting. The tour ends with a tasting of this high quality coffee: you'll start by awakening your palate to bitter, sweet and acid flavours before tasting, then you will try to work out the dominant flavours of the coffees tasted.
DAY 7
Armenia - Providencia Island
The journey to Providencia Island takes most of the day. Private transfer to the airport and flights to Bogota, San Andres and Providencia. Another private transfer and accommodation for five nights in a small Caribbean flower oasis. A haven of tranquillity, right at the water's edge and surrounded by a rainforest, with twelve bright and airy rooms. Fabulous, refined cuisine is enjoyed facing the sea and opposite a superb panorama of the small island of Cayo Cangrejo. Although there is no proper beach, there are comfortable sunbeds on the wooden pontoon and the small infinity pool is invaluable.
DAYS 8 to 11
Providencia Island
The enchanting views of the Caribbean Sea and the islet of Cayo Cangrejo make it easy to just stay there and be lulled by the sounds of the rainforest. Yet every day there's a chance to get out of this bubble and discover a bit more of this corner of paradise. Although the Colombian flag flies on this volcanic land, it is actually far closer to the Nicaraguan coast. Mountainous and green, Providencia Island is home to beautiful sea beds and corals declared a World Biosphere Reserve. You explore it first from the top, from El Pico, climbing to almost 1,200ft for a panoramic view that allows you to appreciate the sea's seven colours. Then underwater, of course, with a coral reef dive. In the evening, after feasting in crab, you will be caught up in the island's languidly Jamaican atmosphere and the beat of a local reggae band.

Already included in the itinerary - Golf buggy rental day, to explore the island in complete freedom.

Optional - Half a day kayaking and snorkelling on Crab Cay, a small island off Providencia.
DAY 12
Providencia Island - Cartagena


Private transfer to the airport and flights to San Andres and Cartagena. Another private transfer and three-nights' accommodation in San Diego, in a hotel which epitomises Cartagena's colonial charm. Enter through the wide door of this 17th century house with whitewashed walls and terracotta tiled floor. Sitting on the patio, around the swimming pool in the shadow of the palm tree, you can enjoy the beauty of a bygone era. The rooms, with their wide beams, emit a sense of tranquillity. They are decorated with wood and shades of white, highlighted with blue and green touches to remind you that you're in the Caribbean.
Included in the itinerary - Private visit to San Felipe Fort and the Getsemani district. In addition to its colourful historic centre, these two places are also part of the history of Cartagena. San Felipe Fort, a masterpiece of military architecture, was built in 1536 to defend the city from the many pirates and privateers. The colonial district of Getsemani is a great place to stroll through, to better appreciate the young and bohemian atmosphere of Cartagena in its colourful alleys . The next day, head for the small village of La Boquilla, 20 minutes from Cartagena, where there is a strong fishing community. Just behind the village the mangrove is full of migratory bird colonies which take flight at sunset. After a canoe ride in this special ecosystem, there is a visit to a music school for an introduction to percussion, led by young and talented percussionists from the village. Maracas, bongo and alegre, the Caribbean is the home to many rhythms inherited from African traditions.

Optional - A rum and chocolate tasting.
DAYS 15 & 16
Cartagena - Return flight
Private transfer to the airport and catch your flight home. Overnight flight, arriving the next day.


A la carte
PROVIDENCIA - KAYAKING AND SNORKELLING AT CRAB CAY
The small island of Crab Cay is home to an impressive natural site: the world's third largest coral reef. A dream for divers, in a setting worthy of the most beautiful postcards: a green island where palm trees grow beside a sea that shows off all its shades of blue and turquoise. A beautiful Caribbean invitation, best discovered by kayak or snorkelling - masks, flippers and snorkels are provided.

Optional - Half day




CARTAGENA - RUM AND CHOCOLATE TASTING
A tasting that combines rum (seven to 20 years old) and high-end chocolate; two treasures of Colombia that, with its passion for cigars, make Cartagena Havana's younger sister.

Optional
A Rough Idea of Price
Dependent on season, accommodation and activities
The estimated cost for this trip starts from £6,250 to £7,855 per person. This trip is tailor-made to your exact specifications so prices will fluctuate. The cost varies according to several factors, including the level of service, duration of the trip and how far in advance you book. The final cost will vary according to several factors, including the level of service, length of trip and advance booking time. The exact price will be shown on your personalised quote. The average starting price for this trip is £6,785 per person. Best time of year for this trip: mid-January to mid-October.
International flight to Bogota and return from Cartagena
Domestic flights Bogota/Armenia, Armenia/Bogota, Bogota/San Andres, San Andres/Providencia, Providencia/San Andres, San Andres/Cartagena
Airline taxes and fuel surcharge
Priority customs clearance, greeting and assistance at Cartagena airport
Greeting and assistance on arrival in Bogota
Private transfers included in the itinerary
Three-night stay in Bogota in a double room with breakfast included
Three-night stay in Armenia in a double room with half board included
Three-night stay in Providencia in a double room with breakfast included
Three-night stay in Cartagena in a double room with breakfast included
Late check-out on the last day in Cartagena
Visit to the historic centre of Bogota and Montserrate Hill, with a private guide
Half-day with a local in Bogota to meet artists
A day's hike in the Cocora Valley (coffee region), with private guide and picnic lunch included
A visit to a hacienda specialising in coffee farming, followed by a tasting, with a private guide
A day's golf buggy rental in Providencia
Half-day tour of San Felipe Fort and the colonial district of Getsemani in Cartagena, with private guide
A percussion lesson in the small village of La Boquilla, with a private guide
Our local Concierge service
A few of the benefits of travelling with us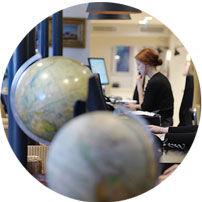 Get in touch
Our experts have the inside track on the destinations they sell and will tailor-make a holiday to your unique requirements.
Contact one of our Colombia specialists