Itinerary Highlights
Sailing, diving and experiencing Colombia's little-known Costa Caribe



Our selection of accommodation: colonial house in Cartagena, contemporary villas by the sea



Private tour of Cartagena, meeting with an emerald hunter, trip to Tayrona: already included in the itinerary



Our smartphone app, local Concierge and all our usual additional services.


Contact one of our Colombia specialists + 44 (0) 20 3958 6120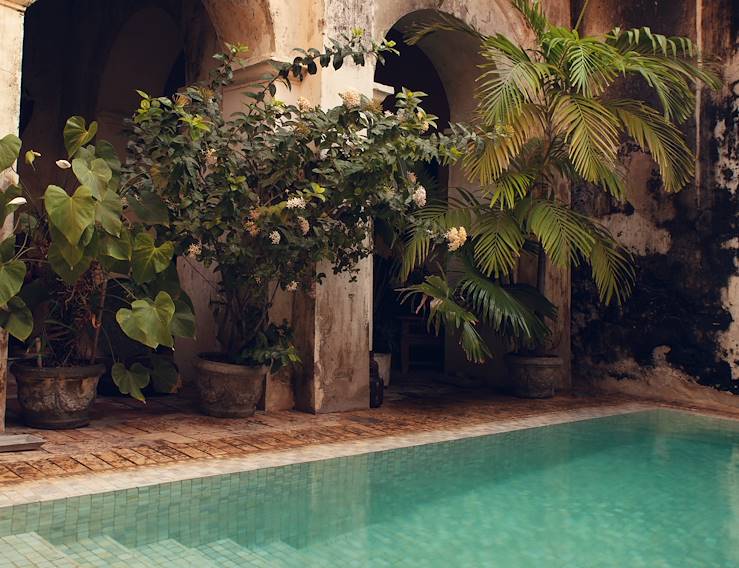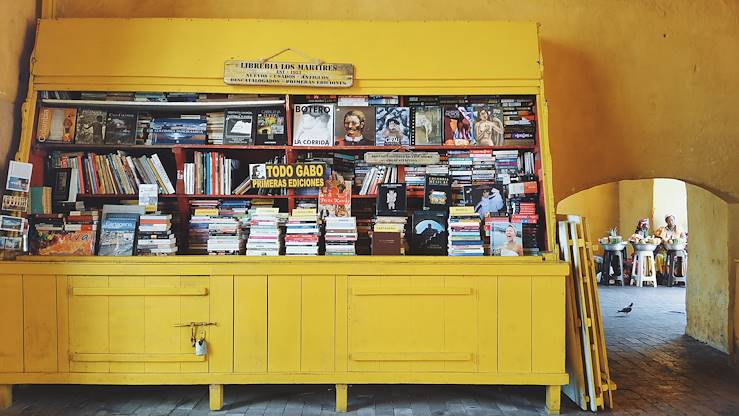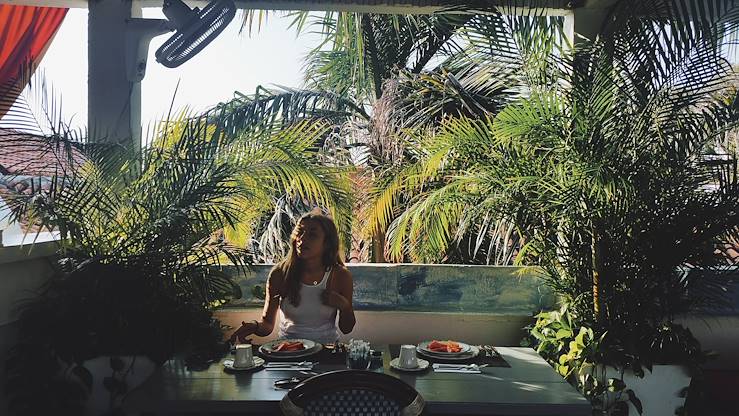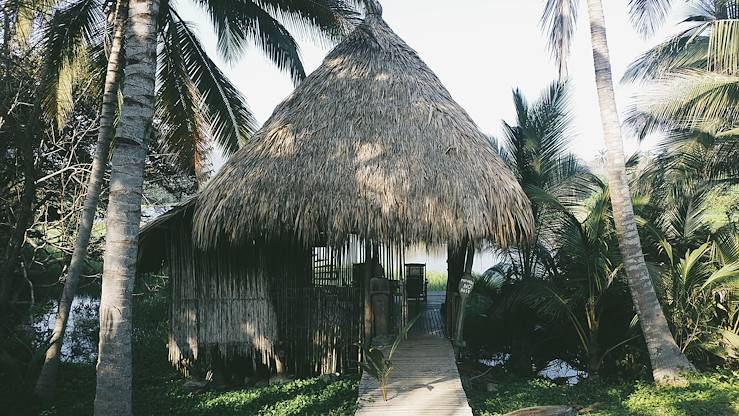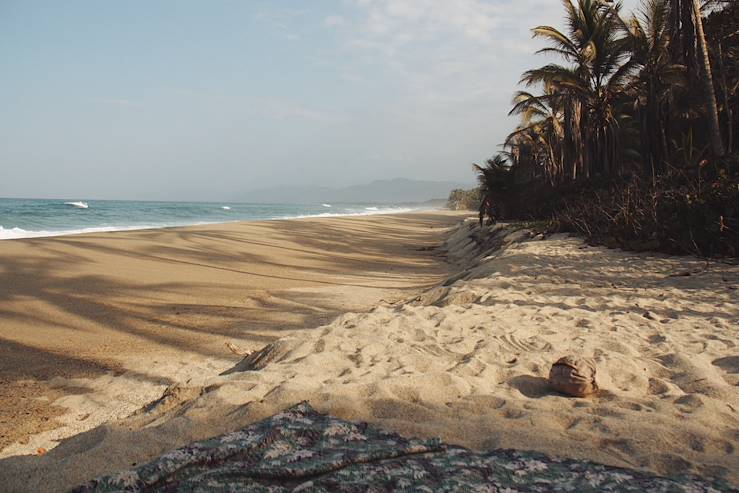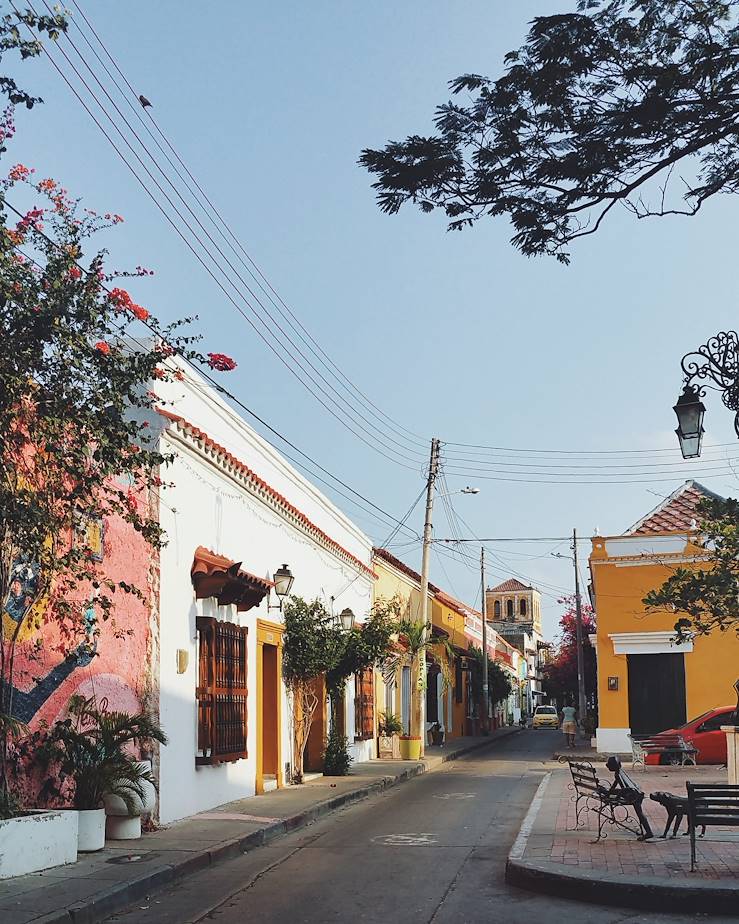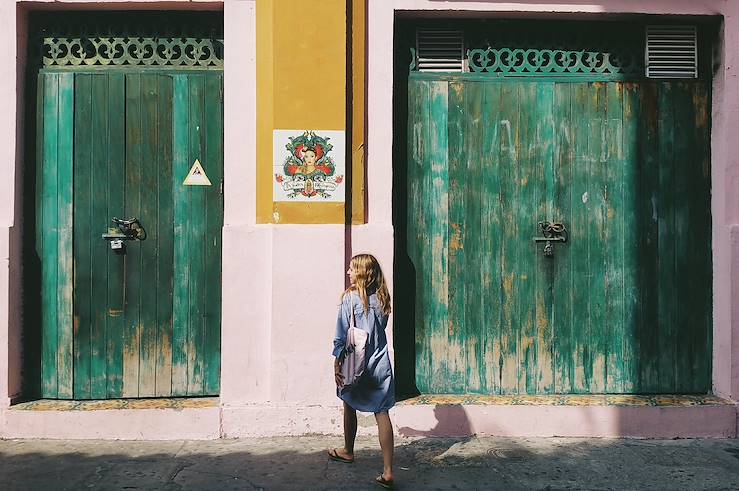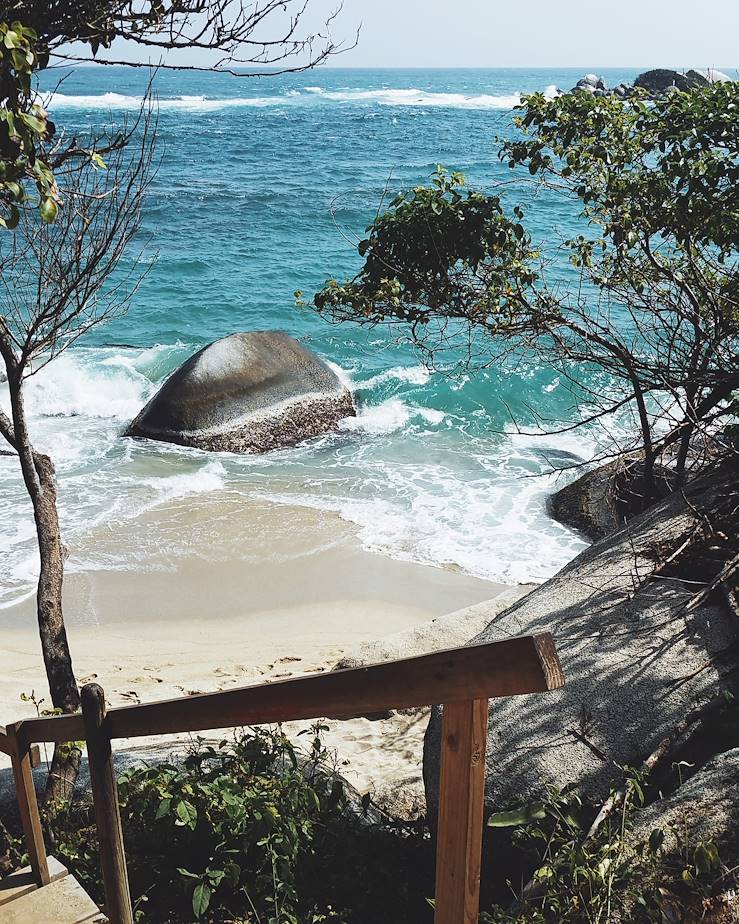 Coastal Colombia, in a nutshell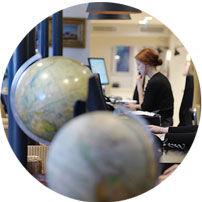 South of the Panama isthmus there is Pacific Colombia; to the north, Caribbean Colombia, which you travel along on this journey. It shares the lapis lazuli Caribbean sea with the West Indies, coral reefs and its associated wildlife, fine sandy beaches, breezes through the palm trees and a relaxed way of life. Away from the coast, the hills are covered in dense forests, home to spectacular animals. You arrive in
Cartagena
, like so many Europeans since 1533. The old city, contained by its ramparts, tells of harsh conquerors, anxious missionaries and shameless pirates, set against beautiful Spanish architecture and to the warm sound of the 'champeta' (a Colombian music and dance tradition).
UNESCO has listed Cartagena as a World Heritage site. Explore the tropical nature of the Baru peninsula by boat. The peninsula's corals can be seen through the clear water, while the sand sparkles and the coconut trees wave in a pale blue sky. It's rum and swimsuit time. Finally, Tayrona National Natural Park is a protected region and haven for precious land and sea creatures. Andean condors hover overhead, jaguars lurk, aras fly in pairs and caimans slide between two pools there. Explore on foot, with plenty of opportunities for a swim. While the Andes are austere and grandiose, the Caribbean coast is - conversely - soft and bright, sparkling and musical.




Your journey
Travel is by the most appropriate means, which also means the most comfortable: air-conditioned car with driver and boat, to reach Isla Baru. Under these circumstances, journeys are not a drag on the trip but an enjoyable part of it. The three-day, two-day, three-day stages are appropriate for the time and distance covered. Your hotel in Cartagena, in the middle of the old town, has a warm atmosphere. Those properties in Baru and Los Naranjos have elegant decor and an aura of seaside comfort. The itinerary makes time for relaxation and a slower pace of life. We have of course included some must-sees in your itinerary: a private visit to Cartagena's historic districts, the fishing village of La Boquilla and Tayrona National Park. And then an amazing encounter with an emerald hunter for an original and adventurous perspective on Colombia. If there's something you unexpectedly need or a slight setback along the way, you have the contact details of our local Concierge.


Route
Everything is 100% tailored to you
DAY 1
Flight to Cartagena (via Panama City)
Transfer and accommodation for three nights in the old quarter. The building dates back to the 17th century and exemplifies colonial architecture. It was meticulously restored when it was converted to a hotel. Galleries and wooden balconies, stone columns and clever planting make the courtyard look fantastic. Inside, Colombian craftsmanship gives the interior decoration a regal feel. The bedrooms are in a contemporary style. Aniseed, yellow, blue-green, orange and white tones. Modern-day comfort combined with colonial elegance. The hotel's mouth-watering international Caribbean cuisine is served in a lovely dining room. For added relaxation, massages are available. There's a pool and a rooftop Jacuzzi too. If the mood takes you, the hotel boat can take you on a trip round the bay.
Already included in the itinerary - Encounter with an emerald hunter. In Colombia, there is a world of emeralds, in which our man has made a name for himself for being particularly eagle-eyed. He travels the country in search of the green stones, and will meet you at your hotel. For the Incas emeralds were a symbol of their authority. Visit La Boquilla, a fishing village inhabited by fishermen of African origin, a little north of Cartagena. Residential homes, a small school, a shop and a beach. There's a mangrove too, which long canoes can enter to lay down crab traps. With a private guide you get to know the place and explore the mangrove, which thousands of birds call home.
Already included in the itinerary - Private visit to the old town. Cartagena has its roots in Havana and Seville. The imposing fortresses of San Felipe de Barajas and San Fernando de Bocachica (18th century), on which privateers and pirates cut their teeth, stand as a noble testament to this. Cartagena was prosperous then, and is prosperous now. As for its religious history, you can see it on the streets, from the Cathedral of St. Catherine of Alexandria (17th century) to the Palace of the Inquisition (18th century), to the Church of San Pedro Claver (17th century), the apostle of African slaves. Walk of discovery with a guide.
DAY 4
Cartagena - Isla Baru
Boat transfer. Accommodation for two nights on the edge of the mangrove, in a large contemporary villa. The interior and exterior fittings are perfectly suited to a both spending time in a hammock and watersports. The rooms are airy and comfortable. A chef is on hand every day. The accent is on fresh and tasty meals. In the garden there's a pool. Kayaks are available for you to paddle around Cholon Bay. Daily shuttles take you to the beaches, such as Playa Agua Azul or Isla Arena. In addition, the Rosary Archipelago boat tour off the peninsula allows you to explore incredibly beautiful marine landscapes.
This area is part of the Rosario and San Bernardo Corals National Natural Park, which aims to protect important coral reefs. It goes without saying that snorkelling and diving trips to discover protected, multi-coloured sea life are the order of the day. As are white sandy beaches shaded by coconut trees. The easy-going atmosphere is delectable, as is the excellent cuisine. Go for walks accompanied by the faint whoosh of the waves, or along inland trails. However, one of the objectives of these two days is pure and utter laziness.
DAY 6
Isla Baru - Tayrona National Natural Park
Transfer to Cartagena by boat, then to Tayrona National Natural Park by car. Three-night accommodation in Los Naranjos, at the eastern end of the park. Surrounded by dense green jungle. Two modern thatched-roof villas are set around a lovely infinity pool. Straight ahead, a narrow bridge leads to a jetty on the Piedras River. A little further, there's a tongue of white sand - Los Naranjos beach - and the intense blue of the sea. Covered but open spaces surround the buildings, living rooms, dining room and terraces. The rooms are in a tropical minimalist style: elegant and practical. At the restaurant, dishes are Colombian and international.
DAYS 7 & 8
Tayrona National Natural Park
Tayrona National Natural Park protects the coastal area of the Sierra Nevada de Santa Marta. Part of it is marine - coral in particular - and part is on land. Where the two meet, sand, rocks and palm trees come together to form paradise beaches. On land, the canopy soars to around 130ft. The birds are a riot of colour: the Santa Marta parakeets, a green parakeet with a red stripe; the Albert's curassow, which looks like it's wearing a tuxedo; the royal flycatcher, with a red tufted crest on its head when anxious; the military macau, coloured like an army officer and the pope vulture, with a yellow wattle and purple cranium. In the early morning you might come across an elusive tapir, an otter or a red brocket deer.

Already included in the itinerary - Private visit to Tayrona National Natural Park. With a guide, you enter the forest along walking trails. Hiking also makes it possible to fully appreciate this stunning habitat. You feel you're being watched by several animals at once. The path leads to Cabo San Juan de Guia, a great spot for a swim.
DAY 9
Tayrona National Natural Park - Santa Marta - return flight
Transfer to Santa Marta Airport and return flight (via Bogota).

Optional - Bogota.
A la carte
With a few extra days - Bogota,
the Colombian capital offers visitors all the attractions of other large, vibrant, global cities as well as the charm of the old quarter of La Candelaria, home to the famous gold museum, whose pre-Hispanic collections literally dazzle; the Botero museum, with canvases by Pierre Bonnard, Max Beckmann and Picasso and the counting-house, the Moneda, built in the 17th century. The Cathedral of the Immaculate Conception (1807-1823) is a beautiful example of Andean neoclassicism. The national museum is full of exhibits showcasing Colombian history and culture. Maloka Science Park offers an insight into the future. To get the energy you need to explore, you can try ajiaco, a soup made from potatoes, sweetcorn and chicken that is very symbolic of the country's produce. While you're on the move, empanadas make delicious snacks. And then, to the rhythm of cumbia rock, carranga or salsa, there's the legendary nightlife to enjoy. Bogota is worth the trip.

Optional
A Rough Idea of Price
Dependent on season, accommodation and activities
The estimated cost for this trip starts from £4,105 to £5,000 per person. The final cost of the trip depends on the way we tailor it especially for you. The final cost will vary according to several factors, including the level of service, length of trip and advance booking time. The exact price will be provided on your personalised quote. The average starting price for this trip is £4,375 per person.
Flight to Cartagena and return from Santa Marta, by scheduled airline
Airline taxes and fuel surcharge
Private transfers
Three-night stay in Cartagena in a double room with breakfast
A private meeting with an emerald hunter; a private visit to the La Boquilla community, with a guide; a private visit to Old Cartagena, with a private guide
Two-night stay in Isla Baru in a double room with full board
Three-night stay in Tayrona National Natural Park in a double room with breakfast
Private tour of Tayrona National Natural Park with a guide
Our local Concierge service
A few of the benefits of travelling with us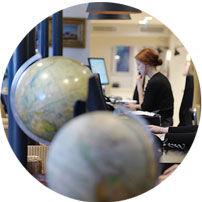 Get in touch
Our experts have the inside track on the destinations they sell and will tailor-make a holiday to your unique requirements.
Contact one of our Colombia specialists