Baroque Sicily
Who: Couples and Solo Travellers
From £1,540pp
Sicily's Baroque Beauties: A Tour of Syracuse and Taormina
Spend five days in two of Sicily's prettiest baroque towns, Syracuse and Taormina on this Big Short Break.
Itinerary at a Glance:
Dig deep into ancient history in Syracuse
Explore Taormina, the town with epic views of brooding Mount Etna
Sip endless espressos, Sicilian style
Why Book with Original Travel?
Just a few of the extra touches that come as standard on an Original Travel holiday...
See More
All of the holidays we create are completely tailor-made to you
This sample itinerary is intended to give you a flavour of what we can do
Day 1:

International Flight
Your three-hour flight to Catania will leave the UK in the early morning, landing in Sicily in time for lunch. Once you have collected your bags you can pick up the keys to your hire car and make the hour long drive down the coast to Syracuse.
Once you have dropped your bags in your room, head out for a long, leisurely lunch. Our detailed destination Dossier is full of our favourite places to eat, and our impeccable local Concierge is also on the end of the phone (or WhatsApp) to recommend a few off-the-beaten-path local haunts.
Day 2:

Syracuse City Tour
This morning your expert local guide will meet you at your hotel for a private walking tour of the city. Together you will trace the city back to its origins in 734BC, when it was colonised by the Corinthians.
Once upon a time, it was the largest city in the ancient world and you will peel back the layers of time and discover what life was like three thousand years ago before moving onto the city's baroque period, when much of what stands there today was built.
After a lazy start to the day you will make the hour-and-a-half drive north to Taormina. When you arrive at your hotel in the city's medieval centre, we recommend settling in for an afternoon lazing by the pool.
When in Taormina, indulge in that most Italian of pastimes, the passeggiata or evening stroll around town, making sure to swing by the ancient Greek-era amphitheatre, with it's picture perfect framed views of Mount Etna in the distance. Again our local Concierge can recommend the perfect spot for supper, whether you want fine dining or something more low key.
This morning you will meet your expert local guide at your hotel for a private tour of Taormina. You will explore the mountainside city's ancient Greek and Roman ruins and Norman buildings, a perfect architectural evocation of Sicily's long and complex history.
In more recent times, the town became popular among northern Europeans who rediscovered it during the era of the Grand Tour. You will wander past cafes and bar where Goethe and D. H. Lawrence drank and soak up the Gothic architecture. After your tour we recommend sitting in a piazza-side cafe and people watching for the afternoon.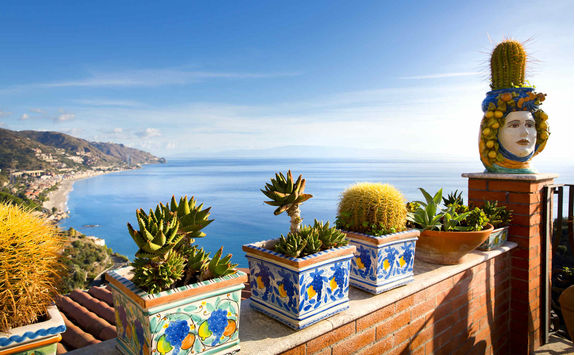 Day 5:

International Flight
After breakfast this morning you will make your way to the nearby city of Catania in good time to drop your car off and check-in for your three-and-a-half-hour flight back to the UK.
All of the holidays we create are completely tailor-made to you
This sample itinerary is intended to give you a flavour of what we can do
A Rough Idea of Price
While all of our holidays are completely tailor-made and prices will vary based on things like time of year and level of accommodation, we want to give you as good an idea of how much this itinerary will cost. The below prices are based on two people sharing.
This Itinerary
If you would like to book the itinerary mentioned above, with economy flights, during mid-season and staying in our preferred room category at our preferred hotels.
Bare Necessities
If you would like to pare back the above itinerary by travelling at non-peak times, staying in a standard room and removing some or all of the guided activities.
Bells & Whistles
If you are looking for something extra special, we can discuss with you upgrading your accommodation, flights or activities.
Harriet and Kate L are our experts for this itinerary and as seasoned travellers they have the inside track on the most memorable adventures.