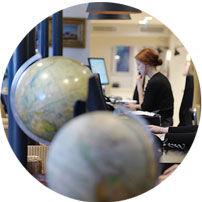 Italy is a country full to the brim with passion and beauty, and one of the most romantic honeymoon destinations imaginable. Those looking for picturesque countryside escapes will love the rolling green hills of Tuscany dotted with quaint villages as well as some exceptionally beautiful cities such as Pisa, Florence and Siena. For a taste of the traditional Mediterranean, head south towards the laid back, beachy region of Puglia for a villa break; stopping along the way stop for pizza in Naples and a history lesson in Pompeii. For a cultural break, the incomparable cities of Rome, Milan, Venice
and Verona - each with their own distinctive personalities - are all firm favourites. Meanwhile, for mountain escapades, the north of Italy - home to the Dolomites - holds plenty of opportunity for activities, whether you want to hike, bike, ski or road trip together, or simply lock yourselves away in a cabin in the woods where the only company you'll have is from the local deer and the odd mountaineer that passes you by. Whether you want to explore one place in depth or combine all of the above for the trip of a lifetime, one thing is for certain - Italy honeymoons have something for everyone, and all topped off with plenty of delicious food and wine. The icing on the torta? The word 'romantic' even has Roman in it.
Italy Honeymoons Ideas
A few suggestions to get the holiday planning process started
A few of the benefits of travelling with us
What our clients say about us
Italy customer reviews (4 reviews)
4.8/5
We had a lovely time - the hotel was gorgeous - very comfy and in the perfect spot and they were very helpful and nice. Our two guides were excellent - very knowledgeable and interesting. It was great - all round! We were lucky and had beautiful weather too (blue sky and sun - but freezing, which was great).

Thank you so much for everything - it was all perfect (transfer was great too).
Italy Guide
Practical advice, client testimonials and inspiration to help you prepare for your holiday
Contact one of our Italy specialists