Visit Prince Charles and Count Kalnoky's guesthouse in the remote village of Zalanpatak and you might feel you've stepped back in time a couple of hundred years.
The village itself is reached by a bumpy track that might technically qualify as a road when looking at a map, but clings to the definition with white knuckles. The drive is well worth it, though, because the village and the guesthouse at the end of it are bucolic perfection, pure and simple.
The charming main building houses the Prince's bedroom and two others, while there are two more rooms in a pretty outhouse with a terrace that catches the evening sun. A further two rooms are coming soon. To complete the picture perfect scene, there is a wonderful old wooden barn, a cornflower blue cottage which houses the kitchen, breakfast room and a comfortable drawing room, and finally an open-sided hut with a wood-burning stove where delicious lunches (and, in summer, breakfasts, teas and suppers too) are served.
The rooms themselves are designed in traditional style with small but functional bathrooms, all of which have showers except the Prince's room which has a large rolltop bath.
The chef from the village cooks up delicious Hungarian specialities such as Szeckler goulash or pancakes filled with sweet cheese, best washed down with Harghita, the local beer, or some of the very good local wine.
This is somewhere to sit and contemplate a way of life long since consigned to history in the UK, but there are also plenty of excellent local activities on offer as well, including long walks, riding, trips to forest hides for bear spotting, horse and cart rides into the hills for picnics, and visits to the village.
Itineraries that feature Zalanpatak
: Indicates itineraries that can be done entirely, or partially, by train.
Other Places to Stay in Transylvania
The Inn on Balaban
The Inn on Balaban is just two miles as the bat flies from Bran Castle, famously – but incorrectly - believed to be that of Count Dracula or...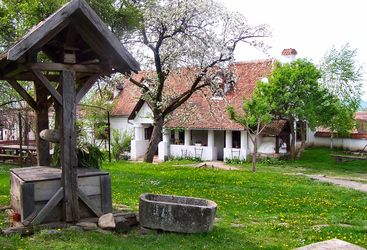 Miklosvar
Count Kalnoky's guesthouse is located in Miklosvar, a village populated almost exclusively by ethnic-Hungarian Szecklers.
At Your Service
We rarely boast about our service but we believe it's what sets us apart and makes us truly original, so please forgive this moment of unabashed self-promotion.
Start creating your tailored trip today
Our thoughtful experts are ready with ideas, inspiration and advice for your next journey.
Working with you we'll craft an unforgettable trip and tailored itinerary.
We're here to help with everything while you're away from the smallest to the biggest request.
is a seasoned traveller and has the inside track on the most memorable adventures.