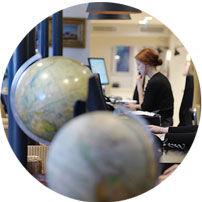 Sandwiched between Panama and Nicaragua on the narrow land bridge that links Central America to its southern counterpart, Costa Rica has not one, but two stunning coastlines. Serving up some wildly different flavours depending on the side you choose, visitors are bound to be delighted by the menu offered up on both the Pacific and Caribbean Coasts. To the east, the warm Caribbean Sea creates a shelter for coral reefs which in turn,
house a myriad of multi-coloured fish. Jamaican influences are strong in these parts, with jerk-seasoning and reggae sounds helping to set it apart from the rest of the country. Kick off your Costa Rica Caribbean Coast holidays in the north-east of the country where humidity reaches an all-time high. Visit Tortuguero National Park that is bursting with life, venture to Talamanca, where surfing is life and for snorkelling that is out of this world, Manzanillo is the place. Contact one of our experts for a taste of the wonders this part of Costa Rica hides.
Regions Costa Rica
Discover more 100% tailor-made holiday ideas
A few of the benefits of travelling with us
What our clients say about us
Customer reviews Costa Rica (3 reviews)
4.7/5
All agreed best holiday we have ever been on!!! Can't thank you enough.
Costa Rica Guide
Practical advice, client testimonials and inspiration to help you prepare for your holiday
Contact one of our Costa Rica specialists