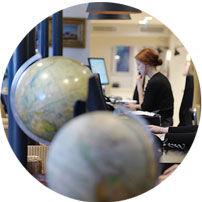 Costa Rica is a pioneer of eco-tourism, and a quarter of the country is made up of protected reserves and national parks. This makes it the perfect adventure playground for children and parents alike. Begin your family holiday in Costa Rica by heading for the Caribbean coast, taking in waterfalls and the world's largest butterfly collection en route. Travel by boat into Tortuguero National Park to discover the rich jungle and marine life of this coastal rainforest. Between July and October, sights include the rare green turtle, which comes ashore to nest on the beaches. On the subject of turtles,
during Costa Rica family holidays, nature calls the shots. Your children will watch, enthralled, as a sloth descends a tree trunk in slow motion, then gasp as they spot hummingbirds flitting from flower to flower. Close encounters with playful monkeys and cheeky toucans elicit delight, but rushing down a white water river will have them screaming for more. Cloudforests offer an education too: seeing tiny fluorescent tree frogs and the mating dance of the manakin will give them a taste for biology classes when they return home. And watching a live volcano smoking before their eyes might make them long to become volcanologists. Wherever you go in this serene and lovely country, the bountiful landscape kindles a sense of natural wonder.
Costa Rica Family Holiday Ideas
A few suggestions to get the holiday planning process started
Family Holidays by country
Other Costa Rica collections
A few of the benefits of travelling with us
What our clients say about us
Costa Rica customer reviews (3 reviews)
4.7/5
All agreed best holiday we have ever been on!!! Can't thank you enough.
Costa Rica Guide
Practical advice, client testimonials and inspiration to help you prepare for your holiday
Contact one of our Costa Rica specialists