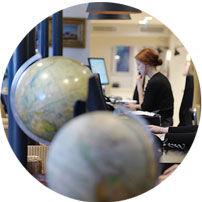 Don't expect quiet nights on your honeymoon in Costa Rica. The canopy in the cloud forest is alive with a feathered-version of a Latin American Carnival – a delightful cacophony of squawks, complete with dancing manakins, vividly dressed quetzals and hordes of scarlet macaws. There are snoozing volcanos to explore – watch plumes of smoke rise above their dormant tops, and soak your feet in the hot springs found at the feet of these geothermal giants. For some post-wedding fun, try zip-lining over the forest or white-water rafting down rapids to reach a romantic jungle hideaway. Collapse in a blissful Pacific beach retreat – think white sand,
coconut palms and the sound of the waves, to lull you to sleep – a nice change from wedmin-stress. Post-nuptial relaxation can also include grounding yoga classes, rejuvenating spa treatments and more fresh fruit than you could hope to sample during one trip. Don an apron and try your (now ring-clad) hand at whipping up some traditional Costa Rican dishes (such as gallo pinto) during a couple's cookery class. Take your love to new depths by snorkelling and diving in the gin-clear waters of the Pacific Ocean, or test your teamwork skills while kayaking around Isla Jesusita to see the bio-luminescent plankton emerge at dusk. Costa Rica honeymoons are an eco-minded adventure, luxury hideaway and romantic romp, all rolled into one captivating country; it's a trip like no other.
Other Costa Rica collections
A few of the benefits of travelling with us
What our clients say about us
Costa Rica customer reviews (3 reviews)
4.7/5
All agreed best holiday we have ever been on!!! Can't thank you enough.
Costa Rica Guide
Practical advice, client testimonials and inspiration to help you prepare for your holiday
Contact one of our Costa Rica specialists