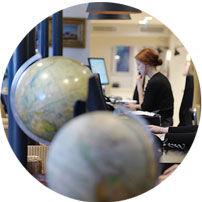 The Central Valley is the heart of Costa Rica. Not only does the area contain the capital city, San José, with its many bars and restaurants, but also highlands which are home to traditional coffee plantations and striking views. The Central Valley is also surrounded by impressive volcanic mountain ranges, especially the Cordillera Central on the eastern side of the valley. About three quarters of the country's residents live in The Central Valley, and you can see why - Costa Rica's geographical heart is home to San José, coffee plantations, volcanoes, and rapids ideal for rafting. The region has a very pleasant climate,
due to its altitude, meaning that days are warm without being sticky, and nights are comfortably cool. It is certainly worth spending additional time exploring this lush area on a Central Valley holiday, whether white water rafting down the Pacuare river, visiting the active Poas volcano, or learning about coffee roasting and the cultivation process of macademia nuts.
Costa Rica Regions
Discover more 100% tailor-made holiday ideas
A few of the benefits of travelling with us
What our clients say about us
Costa Rica customer reviews (3 reviews)
4.7/5
All agreed best holiday we have ever been on!!! Can't thank you enough.
Costa Rica Guide
Practical advice, client testimonials and inspiration to help you prepare for your holiday
Contact one of our Costa Rica specialists