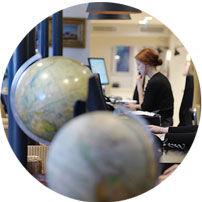 Costa Rica Pacific Coast holidays throw up all sorts of tough decisions: lie down on a surf board or yoga mat? Brave the dark while creeping through caves or try not to look down on a canopy top tour of the cloud forest? Or simply do very little at all. The Pacific Coast is one of the two stunning and diverse coastlines that Costa Rica boasts. Washed by the rolling waves of the Pacific, the west coast is a haven for surfers and nature lovers alike. With National Parks dotted along the coastline, glittering white sand beaches bordered by lush green jungle and migrating humpback whales breaching offshore
there are few reasons not to visit this enchanting place. Venture from the Osa Peninsula - home to one of the largest tropical forests in Central America - to the Nicoya Peninsula to discover one of the most popular beach spots in the country. During your Costa Rica Pacific Coast holidays, make sure to visit the protected Corcovado National Park - where nature is king - and take your pick from the many laid-back towns where eating, sleeping, surfing and swimming are the only orders of the day. Its a tough life.
Costa Rica's Pacific Coast Holiday Ideas
A few suggestions to get the holiday planning process started
Costa Rica Regions
Discover more 100% tailor-made holiday ideas
A few of the benefits of travelling with us
What our clients say about us
Costa Rica customer reviews (3 reviews)
4.7/5
All agreed best holiday we have ever been on!!! Can't thank you enough.
Costa Rica Guide
Practical advice, client testimonials and inspiration to help you prepare for your holiday
Contact one of our Costa Rica specialists