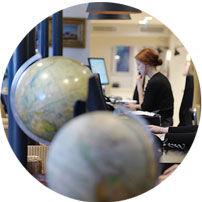 Sometimes nothing beats escaping the hustle and bustle of day-to-day life. That's why we've created Pin Drop Travel, a collection of destinations where silence is golden; places of peace where - as the name suggests - you can hear a pin drop.
Pin Drop Travel Ideas
A few suggestions to get the holiday planning process started
A few of the benefits of travelling with us
Review
What our clients say about us
This is the first time we went on a trip with Original Travel, a specialist advisor who listens to our expectations, and really the feeling of being pampered from departure to arrival. The concierge service is so efficient that we quickly become addicted.
Contact one of our specialists