As a real foodie I was extremely excited at the opportunity of travelling to Sri Lanka on my recent research trip to sample first hand some of their culinary delights such as hoppers and curries, and I was not disappointed. Having spent the last fortnight in Sri Lanka I have realised that it is not only the food here that is truly captivating but also the spectacular scenery, the friendly and welcoming people and the incredible diversity of Sri Lanka which will entice me to return. If you are reading this having not yet been to Sri Lanka, well lucky you. You have so much to discover and I hope that I can tempt you into considering it for a future holiday. If you have already been, perhaps my blog will remind you of all the reasons to return to this beautiful country…
SCENERY
I was taken aback by quite how stunning the scenery is and travelling in June how lush and prolific the vegetation is. Within 10 minutes' drive of Colombo Airport you are surrounded by paddy fields, trees and an abundance of greenery. While in Sri Lanka I was impressed with the number of man-made lakes (some dating back c.2000 years). In fact, Sri Lanka has no natural lakes. The lakes offer stunning landscapes, encourage wildlife and also give a great water source to the country. Visiting tea plantations gave me the opportunity to see hillier areas and find higher viewpoints such as Lipton's Seat, which provides dreamy views of tea estates and the surrounding landscapes, lakes and hills in the distance. In contrast, I also visited Passekudah on the east coast where the white sandy beach stretches for miles and the sea is not only incredibly shallow (making it very safe to swim in) but beautifully warm.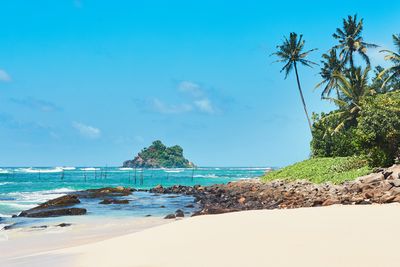 DIVERSITY OF THE COUNTRY
For a country that is roughly four times smaller than the UK, there is huge diversity in weather and geography across the country. Whereas a lot of countries have peak seasons that apply to the whole country, in Sri Lanka there is always somewhere in the country that you can travel to for cooler, warmer, sunnier or even wetter weather…. depending on what takes your fancy.
The activities in Sri Lanka are also incredibly diverse ranging from stunning archaeological sites, bustling cities, beaches, tea plantations, adventure activities, game drives in the national parks, hiking, meeting indigenous people, bird watching and… you get the idea, the list really does go on. There really is something for everybody.
PEOPLE
Not only is the level of spoken English in Sri Lanka good, particularly amongst the young, but Sri Lankans are generally extremely helpful and welcoming. Throughout my time in Sri Lanka the service in hotels and restaurants was excellent.
FOOD
The food in Sri Lanka is incredible and utterly delicious. No wonder Sri Lanka was the centre of the spice trade. You must visit a local market while you are there to see the wonderful range of produce. Also, do try one of my favourites: egg hoppers - they are amazing and are like a crispy savoury pancake with a fried egg in the middle which you can have for breakfast with tasty sambas and curries. The curries are also extremely varied; in any one meal you can have up to 14 different vegetable dishes to accompany a fish or meat dish and these almost steal the show. The fruit is also mouth-wateringly good with juicy mangos, papayas, passion fruits, pineapples, watermelons and bananas very much being part of a staple breakfast in most hotels. There are also slightly different and peculiar fruits such as wood apple available during certain times of the year. Do not go home without trying buffalo curd and treacle!
Sri Lanka really does have something for everybody and would work for both young and old alike. The hotels here are extremely special and if you do like more of a boutique-style property there are so many incredible options. Whilst I am trying to re-acclimatise to the UK and attempting to make my own hoppers in my new pan bought at the local market in Galle, I will be day dreaming of the beautiful hotels, the amazing people and the stunning places I have been to in Sri Lanka which will definitely tempt me back soon to explore this fascinating country further.