Wonders of Turkey
Who: Couples and Solo Travellers
From £3,720pp
Wonders of Turkey: Istanbul and Bodrum
Turkey's long history makes it a fascinating destination for culture vultures while its stunning scenery will appeal to nature lovers. This trip showcases the beguiling destinations of Istanbul and Bodrum. Relics from an ancient past pepper these thriving modern cities, allowing visitors to span the centuries in one short trip.
Itinerary at a Glance:
Discover Istanbul's history
Relax in the luxurious and calming surroundings of your luxurious Bodrum hotel
Charter a gullet boat for a day cruise on the glittering Aegean Sea
Why Book with Original Travel?
Just a few of the extra touches that come as standard on an Original Travel holiday...
See More
All of the holidays we create are completely tailor-made to you
This sample itinerary is intended to give you a flavour of what we can do
Day 1:

Travel to Istanbul
Your flight to Turkey leaves London in the afternoon, arriving in Istanbul four hours later.
A driver will transfer you from the airport to your city centre hotel in time for dinner and bed.
The city once known as Byzantium and Constantinople has exerted a pull on traders and travellers for millennia. Present day visitors will not be disappointed either - this is a world class destination with a plethora of historic, cultural and entertainment attractions which will delight and divert.
Start your day wandering the corridors and passageways of the Topkapi Palace where your expert guide can paint a picture of a time when the sultans ruled. The name translates as Cannon Gate, as cannons were positioned on either side of the gates. Constructed in the 15th century by Sultan Mehmet II, each ruler added his own wing. For modern day visitors, the most fascinating section of the palace is without a doubt the Harem's Quarters. Wives, mistresses and slaves lived behind fretwork screens, guarded by eunuch guards. Spend the morning exploring Topkapi and then head over to the enormous Grand Bazaar. Turkey's most famous market is home to some 4,000 stalls and cafes. Leave plenty of space in your suitcase - you'll need it.
Day 3:

Magnificent Istanbul
If yesterday gave you a taste for Istanbul's intriguing past, then today will be a delight. Many of the city's must-sees are conveniently located within strolling distance of each other.
Arguably the two most impressive structures in the old town are the Blue Mosque and 1,500-year-old Hagia Sophia. Both are breathtaking in their scale and attention to detail. Subterranean Istanbul is as compelling; the Basilica Cistern was built to provide the city's water supply in the 6th century and is one of the most atmospheric attractions in Istanbul. Then end the afternoon at the Spice Bazaar. Though smaller than the Grand Bazaar, it is a delight to explore. Many of the stallholders will allow you to taste - or at least sniff - the produce, which of course includes heaps of spice as well as Turkish Delight, dried fruit and nuts.
This evening, enjoy a sunset drink in one of the city's many excellent bars before dinner in a restaurant recommended and booked for you by our local concierge.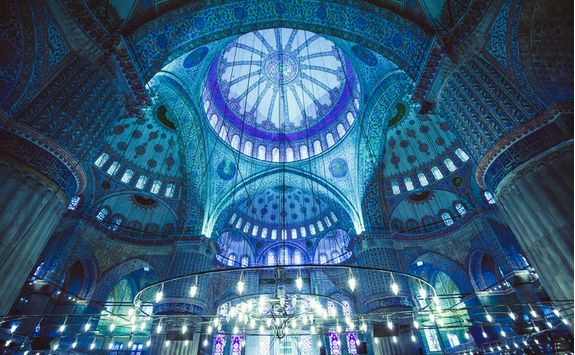 After a morning to explore more of the city, this afternoon you'll be met and driven to the airport for your short domestic flight to the delightful town of Bodrum.
Located on the shores of the glittering Aegean, Bodrum occupies the site of the ancient city of Halicarnassus, home to one of the Seven Wonders of the Ancient World - the Mausoleum of Halicarnassus. Greek writer and 'father of History' Herodotus also once called the city home. Today's Bodrum is a popular destination for discerning holidaymakers and there are several excellent hotels to choose from.
An earthquake destroyed the Mausoleum of Halicarnassus in medieval times but if you're intrigued, some of its colossal statues and marble relief slabs can be seen in the British Museum in London – a chance to relive your trip when you get home.

Today we'd recommend making the most of your restful surroundings, with the shimmering waters of the Aegean in front of you, and the beautiful hills behind.
Relax on the beach or by the pool, or if you really can't sit still, your hotel spa offers a tempting range of treatments.
Day 6:

Explore the Bodrum Peninsula
Today we suggest you visit Bodrum.
Engage with the region's maritime past at the Museum of Underwater Archaeology. Pop in to the Zeki Muren Arts Museum to learn about the life and work of Turkey's Elvis. Then take a hike up to see the windmills just out of town; the coastal views are spectacular and well worth the effort. St Peter's Castle is the perfect place to end the day, watching a spectacular sunset from its tower. Call in on the Mausoleum on your way to the newly renovated Palmarina to enjoy dinner overlooking the marina's many yachts, the ideal spot for people-watching before you head back to the hotel.
Gulets are traditional two or three masted wooden sailing boats still commonly seen in Turkey, with Bodrum one of the most important centres for boat building.
Chartering a crewed gulet for a day cruise is straightforward if you'd like to take this optional excursion. Your crew will take care of all the hard work, leaving you free to relax and enjoy your surroundings. They'll anchor up in a pretty bay so you can enjoy a refreshing swim and then serve a delicious mezze-style lunch. Then close your eyes and let the warmth of the sunshine and the sound of gently lapping waves lull you to sleep.
After a long, leisurely breakfast it's time to say farewell to Turkey. A driver will transfer you to the airport where you'll first catch a domestic flight from Bodrum to Istanbul.
There, connect with your onward four-hour international flight home to London, which arrives in the late afternoon.
All of the holidays we create are completely tailor-made to you
This sample itinerary is intended to give you a flavour of what we can do
A Rough Idea of Price
While all of our holidays are completely tailor-made and prices will vary based on things like time of year and level of accommodation, we want to give you as good an idea of how much this itinerary will cost. The below prices are based on two people sharing.
This Itinerary
If you would like to book the itinerary mentioned above, with economy flights, during mid-season and staying in our preferred room category at our preferred hotels.
Bare Necessities
If you would like to pare back the above itinerary by travelling at non-peak times, staying in a standard room and removing some or all of the guided activities.
Bells & Whistles
If you are looking for something extra special, we can discuss with you upgrading your accommodation, flights or activities.
Harriet and Kate L are our experts for this itinerary and as seasoned travellers they have the inside track on the most memorable adventures.