Once upon a time (that time being the 90's) the Lydmar Hotel was achingly hip and trendy; so hip and trendy in fact, that it was destined to go the way of most of that decade's fashions. However the Lydmar is back once again, and is an altogether more elegant affair this time round.
The hotel's 46 bedrooms are individually designed and prove that there's so much more to Swedish interiors than flat packs and fish hooks - dark slate bathrooms, oak floors and deep leather armchairs. The charismatic designers Pelle Lydmar and Stylt Trampoli have adorned the walls of the hotel with artwork and photographs, whilst the lobby serves as an gallery space, for visiting exhibitions.
The hotel's restaurant is relaxed, fun and knowledgeable, and its menus are international and unfussy, with light bites for lunch and an a la carte dinner choice.
The Lydmar's relaxed, but ruthlessly efficient staff give the hotel a contemporary feel and adhere to Pelle's requests that guests are treated as though they were staying in his own home. Even better is its location: on the waterfront and with views across the water to Stockholm's Old Town. All the main sites of the city are just a short wander away, making the Lydmar the perfect base for a first trip to Sweden.
Why We Love It

Guests can use the spa, gym and pool at the Grand Hotel next door.
Charlotte H, Original Traveller
Itineraries that feature Lydmar Hotel
: Indicates itineraries that can be done entirely, or partially, by train.
Other Places to Stay in Stockholm
Nobis Hotel
Despite being housed in two historic 19th Century buildings in Norrmalmstorg, Nobis Hotel remains thoroughly modern.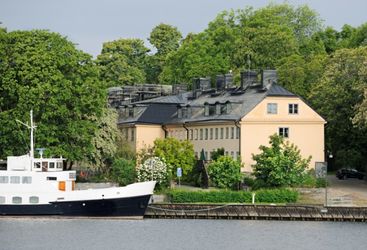 Hotel Skeppsholmen
The Hotel Skeppsholmen expertly combines a stylish modern design interior with a historic and beautiful 18th Century exterior.
At Your Service
We rarely boast about our service but we believe it's what sets us apart and makes us truly original, so please forgive this moment of unabashed self-promotion.
Start creating your tailored trip today
Our thoughtful experts are ready with ideas, inspiration and advice for your next journey.
Working with you we'll craft an unforgettable trip and tailored itinerary.
We're here to help with everything while you're away from the smallest to the biggest request.
is a seasoned traveller and has the inside track on the most memorable adventures.