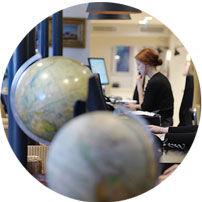 Northern Namibia has the country's best game viewing safari options, centred on Etosha National Park - one of Africa's oldest and largest national parks. Named after the park's massive salt pan (Etosha means 'Great White Place'), this bare and barren wilderness is home to hundreds of animal species, mammals, reptiles and birds that gather in huge numbers by the park's water holes - providing some of the country's best wildlife watching opportunities. Occasionally, if the rains have been good, the pan fills with water and forms a temporary lake which attracts large flocks of flamingos. Most of the time the pan is dry,
but perennial springs draw large concentrations of wildlife at all times of year, so you can enjoy Etosha National Park holidays year-round. In between Etosha and the capital Windhoek is Damaraland, one of the most scenic areas in Namibia (which is saying something). Its dramatic landscape of petrified forests also hosts abundant wildlife such as the endangered desert elephant, and also black rhino. Damaraland is also home to a multitude of ancient rock engravings depicting scenes thousands of years old.
Etosha & Damaraland Holiday Ideas
A few suggestions to get the holiday planning process started
Namibia Regions
Discover more 100% tailor-made holiday ideas
A few of the benefits of travelling with us
What our clients say about us
Namibia customer reviews (2 reviews)
4.5/5
Had an amazing time, loved the country and the people, really different, really well organised and quite flawless. Best part about the trip was that we were in Swakop for the England match on the Saturday vs. Sweden so we watched it in a local bar.
Namibia Guide
Practical advice, client testimonials and inspiration to help you prepare for your holiday
Contact one of our Namibia specialists